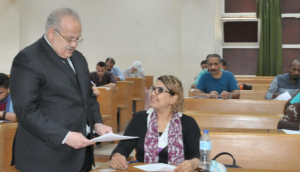 Cairo University President Mohamed Othman Elkhosht checks out the progress of open education and blended education at Cairo University on Tuesday, July 17, 2018. The exams of open education and blended education of faculties of Arts, Commerce, Mass Communication, Dar El-Ulum, Agriculture, and Law started on July 1, 2018, in Cairo and headquarters of partner universities at governorates and Arab states. Blended education exams of professional B.Sc. of commerce business education, B.Sc. of special education, and B.Sc. of early childhood started at the same time as well. The exams finished on July 17 and were conducted under the full academic supervision of Blended Education Center at Cairo University.
Latest News
Cairo University Concludes Activities of Artistic Festival for Latin Cinema with Elkhosht , Ambassadors and Representatives of 10 States Attending
Elkhosht Appoints Gamal Abdelaziz Manager for Center for Blended Learning at Cairo University … Exams Start at Center on Saturday
Cairo University President Announces Results of Critical Thinking and Entrepreneurship Co-authoring Competition at Press Conference
Cairo University Participates in International Honoring Forum for Professors and Researchers in Spanish Studies at Madrid ..
Elkhosht Urges Speedy Treatment to Iraqi Student by Student Hospital After his Exposure to Sudden Health Problem
Back