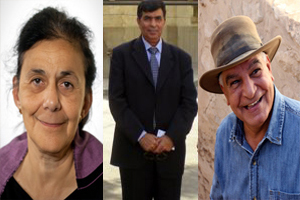 Time : 09:00:00
Location : Conference Center, Cairo University
Organizer : Cairo university
About Event :

Under the auspices of Dr. Hany Helal, Minister of Higher Education and State for Scientific Research, Cairo University is organizing the First International Forum for Scientific Research (IFSR) during the period from 13 to 16 December 2010.






The Forum aims at demonstrating the international research activity at Cairo University, supporting the international publication of scientific research, discussing the national problems, and supporting partnership with different agencies. The sector of community service is sharing actively by demonstrating its role in scientific research. The opening ceremony on the 12th of December will be witnessed by ministers, university leaders, members of research centers and industry in Egypt as well as experts and researchers from the Arab States, Europe and the States.




The plenary lectures on the 13th, 14th and 15th of December will be delivered by three eminent speakers: the famous archeologist ProfDr. Zahi Hawas, Engineer Prof Dr. Ali Fahmi and the American Egyptian Prof Dr. Wafaa El Sadr, Director of the Global Health Initiative at Columbia University.




The Forum will include 42 sessions on applied scientific research covering different topics: e.g. energy, industry, water, irrigation, information systems, biotechnology, nanotechnology, laser science, healthcare and pharmaceutical industry. Prof Hossam Kamel, President of the Forum and the University supports implementing the strategic plan of Cairo University in the area of scientific research. He is keen on applying non-traditional methods to explore and develop research potentials at Cairo University.




The University is funding research projects of young researchers as well as the international publications of staff members. Prof Hussein Khaled, Vice President for graduate Studies and Research, supervised the different sectors of the University sharing at the Forum: the engineering sector, medical sciences, humanities, basic sciences and the community service sector.






Latest Events
Poll : The best university in Egypt for the preparation of the new academic year
Cairo University Launches Best Academic Staff and Assistants' Websites Competition
Get your website at Cairo Univeristy portal
Back