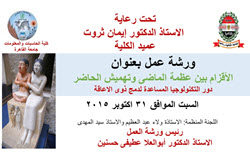 Time : 09:00:00
Location : FCI - CU
Organizer : FCI - CU
About Event : Sponsored by Prof. Dr. Iman Saroit, Dean of Faculty of Computers and Information, IT Unit for those with Visual and Hearing Needs – Cairo University organizes a workshop, entitled "Dwarves between the Greatness of the Past and the Marginalization of the Present and the Role of the Assisting Technology in Integrating those with Disabilities in Society", on Saturday, October 31, 2015, at Prof. Dr. Mohamed Hasan Rasmy Hall, Faculty of Computers and Information.


Prof. Dr. Abdul-Ela Eteify Hassanein, Head of the Workshop, says that the workshop discusses the issue of dwarves in Egypt who make up one-third of the world dwarves. It also discusses the marginalization they are dealt with by society, the role of information technology and communications in combating the illiteracy of dwarves, and creating new jobs that rely on techniques of computers. It also discusses the role of media in raising the awareness of the existence of dwarves, and the modality of integrating them in society as they transgressed 70, 000 people in the Egyptian society.

Latest Events
Poll : The best university in Egypt for the preparation of the new academic year
Cairo University Launches Best Academic Staff and Assistants' Websites Competition
Get your website at Cairo Univeristy portal
Back