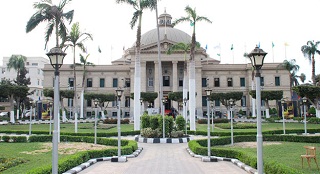 A conference, entitled "Development Strategy and Investment Opportunities at Giza Governorate", has been held by Cairo University on Monday, February 2, at 9 a.m., at Conference Center – Cairo University Hostel.





A number of Cairo University Professors have cooperated with specialists of the governorate in creating a number of projects that can be exploited at the governorate in various fields, such as; industrial and demographic field, agricultural and zoological field, hygienic field, and touristic field.





Professor Gamal Abdul-Nasser, Vice President of Cairo University for Community Service and Environment Development Affairs, said that 9 projects have been established for investment in industrial and demographic field such as; Marble Industrial City Project, Industrial Building Materials City Project, Bricks City Project, Craftsmen City Project, Villa Resort and El- Fayoum Road Golf Establishment Project, Health Resort and Hospital Establishment Project, The House Hotel Projects and Mid-level Hotels for serving tourists from all over the world, Luxury Housing Project, and finally GEOPARK Project.



The agricultural and zoological field includes 4 axes for investment; the first axis aims at linking agriculture to industry and establishing industrial and agricultural entities whether for exploiting agricultural production or producing the requirements of agricultural production. The second axis aims at launching great investment areas in majors in order to benefit from economies of scale and advanced technology. The third axis is about establishing unions for youth, distributing lands among them, serving them through cooperatives on land of area not less than 200 acres. The fourth axis aims at youth land ownership (median property) and allocating ratios of these lands for establishing residential areas for owners as farms ranging in size from 10:5 acres and the freedom of identifying established projects are left for young investor. Mushrooms and apiaries appended to medicinal and aromatic plants or clover to serve the apiary are the most important suggested projects. This will be conducted through a phased plan through which expansion in agricultural investments inside available areas will be phased. The first phase includes 145, 000 acres as well as oases lands.



Three projects were created in the hygienic field. They are Integrated Medical City Establishment project, Global Center for Physical Therapy Establishment project, and Medical Industries City Establishment project.



Six projects were created in the touristic field. They are East Hollywood Project, Modern Art Center Project, Factory Establishment and Centers for Palm Products Project, Tourist Hotel Establishment at Oases, Natural Reserve Area Establishment project, and Media Center Establishment Project.
Latest News
The President of Cairo University thanks Cambridge for the courage shown in its return to fairer assessment methods, which restored the world's confidence in it.
Cairo University Celebrates Forty Fifth Anniversary of October Victory
Cairo University President Meets Vice-President of Renmin University of China to Discuss Means of Cooperation of Belt and Road Initiative with Ain Shams University President Attending
Open Dialog by Minister of Islamic Endowments and Cairo University President with Students about Deconstructing Extremist Ideologies
Cairo University Organizes International Forum for Cultural Heritage entitled Popular Literature and Interdisciplinary Studies in Participation with Researchers from 9 States
Back