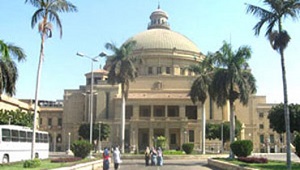 The conclusion of the Second Festival for Cairo University Youth Innovation 2015 is witnessed by the New Central Library on Wednesday, February 25, 2015, at 12 p.m., at Seminar Hall, New Central Library.
The festival is sponsored by Professor Gaber Nassar, Cairo University President, and Professor Gamal Essmat, Vice President of Cairo University for Graduate Studies and Research. It includes many fields; such as, poetry, short stories, articles, painting, music, and singing.
Professor Essmat awards the winners in the presence of a group of faculties' deans and public figures. Fine arts exhibition is inaugurated during the festival and followed by a concert.
Professor Amany Refaat, Manager of the Central Library, has declared that the festival has been arbitrated by Dr.\ Adel Al-Sayed Badr, Professor Assistant of Sculpture, Faculty of Specific Education, Cairo University, Dr.\ Sabry Ali El-Sherbiny, Teacher of Literary Studies Department, Faculty of Dar El-Ulum, Cairo University, and Dr.\ Rania Ahmed, Sollweg Motor Rhythm and Improvisation, Faculty of Music Education, Helwan University.
Latest News
The President of Cairo University thanks Cambridge for the courage shown in its return to fairer assessment methods, which restored the world's confidence in it.
Cairo University Celebrates Forty Fifth Anniversary of October Victory
Cairo University President Meets Vice-President of Renmin University of China to Discuss Means of Cooperation of Belt and Road Initiative with Ain Shams University President Attending
Open Dialog by Minister of Islamic Endowments and Cairo University President with Students about Deconstructing Extremist Ideologies
Cairo University Organizes International Forum for Cultural Heritage entitled Popular Literature and Interdisciplinary Studies in Participation with Researchers from 9 States
Back