On February 26, 2015, honoring ceremony has been held by the Professors of Faculty of Veterinary Medicine – Cairo University at The Guest House. It was held for Prof. Dr.\ Fathy Farouk, Former Faculty Dean, and former vice deans of the faculty; Prof. Dr.\ Mohamed Khaled Al-Sayed, Faculty Vice Dean for Community Service and Environment Development, Prof. Dr.\ Hala Farouk El-Meniawy, Faculty Vice Dean for Graduate Studies and Research, Prof. Dr.\ Hosny Awad El-Banna, Faculty Vice Dean for Education and Students Affairs, in recognition of their efforts in serving the faculty, which was enwreathed with the faculty's accreditation by The National Authority for Quality Assurance in Education.
The ceremony was honored by the presence of Prof. Dr.\ Gaber Gad Nassar, President of Cairo University, who delivered a brief speech praising the faculty's administration represented in the former faculty dean and vice deans who successfully managed the faculty in the critical period that Egypt passed through. The ceremony was attended by a group of staff members and assistants of the faculty.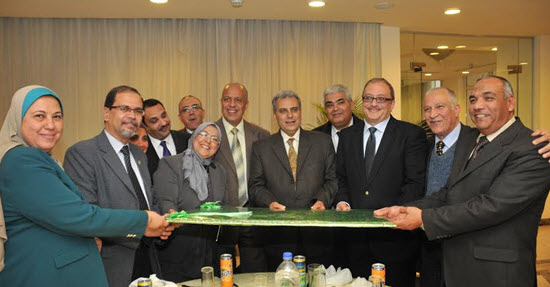 Latest News
The President of Cairo University thanks Cambridge for the courage shown in its return to fairer assessment methods, which restored the world's confidence in it.
Cairo University Celebrates Forty Fifth Anniversary of October Victory
Cairo University President Meets Vice-President of Renmin University of China to Discuss Means of Cooperation of Belt and Road Initiative with Ain Shams University President Attending
Open Dialog by Minister of Islamic Endowments and Cairo University President with Students about Deconstructing Extremist Ideologies
Cairo University Organizes International Forum for Cultural Heritage entitled Popular Literature and Interdisciplinary Studies in Participation with Researchers from 9 States
Back