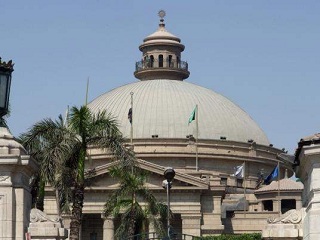 The sixteenth international scientific conference, entitled "No Disability", is organized by Faculty of Physiotherapy, Cairo University, on Thursday, March 5, 2015, at 10 a.m., at Grand Celebration Hall, provided that its scientific activities will be at Pyramisa Hotel Dokki, on Thursday and Friday, 5, 6 March.
The conference is sponsored by Dr.\ Al-Sayed Abdul-Khalek, Minister of Higher Education, Dr.\ Adel Al-Adawy, Minister of Health, Dr.\ Ghada Waly, Minister of Social Solidarity, Dr.\ Gaber Nassar, President of Cairo University, and Dr.\ Alaa Balbaa, Dean of Faculty of Physical Therapy, Cairo University.
This conference is included in "No Disability" Project, adopted by Faculty of Physical Therapy, and includes establishing the largest Center for Physical Therapy and The Disabled Rehabilitation.
The conference includes several many themes; most important of which are the prevention of disability in various diseases, genetics and disability, disability and raising the level of health care, prosthetic devices and overcoming disability, disabilities and their negative impact on the economy, the laws governing the work of the disabled, and its required amendments.
The themes also tackle the scientific applications and different means of the physical therapy field for overcoming disability and rehabilitating the disabled, the criteria and standards of establishing the rehabilitation centers of the disabled and the extent to which it can be spread, the obstacles of educating the disabled, updating the hearing and visual education means to be compatible with the disabled, integrating the disabled into community, raising the competitive and physical efficiency of the disabled in different sport fields, the suitable modifications of means of living of the disabled at houses, streets and means of sport …. etc, and organizing workshops that serve the new in the physical therapy field.
Latest News
The President of Cairo University thanks Cambridge for the courage shown in its return to fairer assessment methods, which restored the world's confidence in it.
Cairo University Celebrates Forty Fifth Anniversary of October Victory
Cairo University President Meets Vice-President of Renmin University of China to Discuss Means of Cooperation of Belt and Road Initiative with Ain Shams University President Attending
Open Dialog by Minister of Islamic Endowments and Cairo University President with Students about Deconstructing Extremist Ideologies
Cairo University Organizes International Forum for Cultural Heritage entitled Popular Literature and Interdisciplinary Studies in Participation with Researchers from 9 States
Back