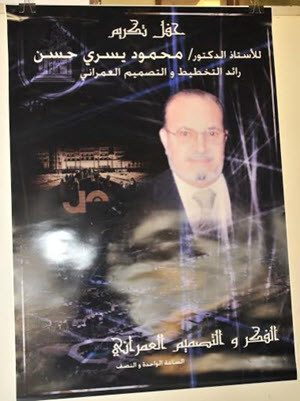 A eulogistic ceremony has been held by Faculty of Urban Planning on Tuesday, 3/3/2015 for commemorating Prof. Dr.\ Mahmoud Youssry, the Former Dean of Faculty of Urban and Regional Planning, Cairo University, and pioneer of urban thought and design. It was attended by Dr.\ Khaled Zakaria, Giza Governor, Dr.\ Ahmed Mahmoud Youssry, Dean of Faculty of Urban Planning, as well as elite of the faculty's professors and employees.
Noteworthy, Professor Mahmoud Youssry has received his PhD. in cities and regions planning – MIT USA – in 1965. He represented Egypt and North of Africa in a number of international bodies, such as; UN UNIVERSITY, the international research team on global cities and future urbanization – Tokyo 1995, The European Union for planning schools – AESOP Reggio Calabria – Italy – 1990, etc.
He participated in the arbitration of many international competitions and researches, such as; International Project Arbitration: Tourist center at Sidi Abdel Rahman (1500) acres – The Northern Coast, and other international competition.
Professor Youssry received many medals and certificates of recognitions, such as; International Union of Architects Award (Cities Planning Award) in 2008, Medal of Science and Arts of the first Class year 1983, The pioneering engineering honoring certificate - Syndicate of Engineers years in 1989, 1992, he received a certificate of recognition from Federation of Egyptian Architects in 1990, Environmental and Applied Sciences Award of Merit, Cairo University, in 1999.
Latest News
The President of Cairo University thanks Cambridge for the courage shown in its return to fairer assessment methods, which restored the world's confidence in it.
Cairo University Celebrates Forty Fifth Anniversary of October Victory
Cairo University President Meets Vice-President of Renmin University of China to Discuss Means of Cooperation of Belt and Road Initiative with Ain Shams University President Attending
Open Dialog by Minister of Islamic Endowments and Cairo University President with Students about Deconstructing Extremist Ideologies
Cairo University Organizes International Forum for Cultural Heritage entitled Popular Literature and Interdisciplinary Studies in Participation with Researchers from 9 States
Back