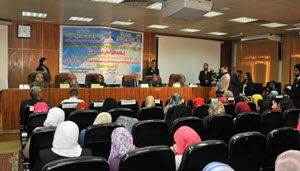 On Monday, March 16, 2015, Cairo University has held an activity on resisting harassment and violence against women, under the "Secure University for All" slogan, inside the university's faculties and institutes.
The activity was held in the context of the cultural season of the university and the celebration of The Egyptian Woman Day. It is sponsored and attended by Professor Gaber Nassar, President of Cairo University. The celebration has witnessed the parade and the university president in its forward accompanied by a number of faculties' deans and the university's professors and students. It also included many activities in a number of faculties and institutes, such as; Faculty of Arts, Faculty of Commerce, Faculty of Economics and Political Sciences, Faculty of Mass Communication, Faculty of Agriculture, Faculty of Nursing, Faculty of Oral and Dental Medicine, Faculty of Physical Therapy, Faculty of Veterinary Medicine, Faculty of Medicine, Faculty of Specific Education, and Faculty of Law.
Nassar has inspected many faculties inside and outside the university's campus and took souvenir photos with students. He mentioned in his speech at Faculty of Mass Communication that woman is the whole society since she brings up children and her work is multi-faceted compared to man. Prophet Muhammad (peace be upon him) urges the confrontation of reprehensible acts, such as; harassment. Nassar has asserted that the university is keen on providing a model of anti-harassment initiative for community service not only by law, but also through following values and principles inspired from religion and manners.
Nassar has added that the university currently examines establishing radio station and a television station especially at Faculty of Mass Communication after the success of The University Voice Newspaper launched by Journalism Department, Faculty of Mass Communication. He confirmed that the university is keen on setting a societal culture that represents a framework for protecting women in Egypt and the Arab World. On the fringe of the celebration, Faculty of Mass Communication has hosted Prof. Dr.\ Amna Nouseir, the former Dean of Faculty of Islamic Studies, Al-Azhar University, who talked about the position of women in Islam. She mentioned models of female companions and how Prophet Muhammad (peace be upon him) honored women after he entered Medina. Prof. Dr.\ Ezz-ul-Din Abu-Steit, Vice President of Cairo University for Education and Students Affairs, has awarded her with the university shield at Conference Center, Faculty of Mass Communication.
The seminar of Faculty of Arts revolved on asserting the responsibility of the university's administration concerning protecting female students. This is represented in punishing the wrongdoer according to law, as well as the responsibility of the university professors in protecting students and raising their awareness about the harassment phenomenon and how it can be confronted. Prof. Dr.\ Moataz Abdullah, Dean of Faculty of Arts, has illustrated that the university has allocated a whole week for resisting harassment and violence, asking girls to immediately report any harassment case.
During the conclusion ceremony, Nassar has distributed certificates of merit among the honorees of the participants in Anti-Harassment Unit – Cairo University at 4:30 p.m., at Faculty of Commerce, Cairo University. He offered thanks and appreciation to every participant of staff members and students in the activity, expressing his great pleasure with this huge effort conducted by all the university's faculties and institutes inside and outside the university campus. The ceremony has been organized with enthusiasm, insistence and determination to face all misbehavior in society.
Nassar has declared that Cairo University is the first university to offer an initiative in this form working on its implementation at the global level. He illustrated that the university will always boost all distinctive ideas and good activities for the sake of reaching a better society.
Prof. Dr.\ Maha Al-Said, Director of the Executive Committee, Anti-Harassment Unit, has expressed her appreciation of the university president for his continuous support for the unit. She has also thanked all the participant faculties in the ceremony.
She said that a supreme committee of Anti-Harassment Unit has been made as well as an executive committee that includes coordinators from all faculties of the university aiming at raising awareness and educating the unit's principles and instructions, and its implementation.
The activity has been concluded by a theatrical show, entitled "After Night", at 7 p.m., at Grand Celebration Hall. It was attended by the University President, Prof. Dr.\ Gamal Abdul-Nasser, Vice President of Cairo University for Community Service and Environment Development.
The play tackled several common issues in society concerning rape, harassment, women rights, fanaticism and extremism in all fields.
Latest News
The President of Cairo University thanks Cambridge for the courage shown in its return to fairer assessment methods, which restored the world's confidence in it.
Cairo University Celebrates Forty Fifth Anniversary of October Victory
Cairo University President Meets Vice-President of Renmin University of China to Discuss Means of Cooperation of Belt and Road Initiative with Ain Shams University President Attending
Open Dialog by Minister of Islamic Endowments and Cairo University President with Students about Deconstructing Extremist Ideologies
Cairo University Organizes International Forum for Cultural Heritage entitled Popular Literature and Interdisciplinary Studies in Participation with Researchers from 9 States
Back