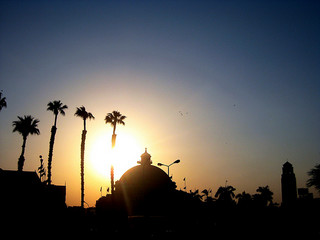 On Saturday, March 21, Cairo University has hosted the International Festival for Ideal Mother at Grand Celebration Hall. It is sponsored, this year, by Professor Gaber Nassar, President of Cairo University, The Foundation of His Highness Sheikh Mohammed bin Rashid Al Maktoum the Ruler of Dubai, and Islamic Educational, Scientific and Cultural Organization (ISESCO).
A number of ideal Egyptian mothers has been honored during the festival, as well as a number of ideal mothers from outside Egypt; namely, Hannah Hartman from Germany, Maryam Saleh, President of the General Confederation of Moroccan Construction, who is one of the most influential names in Arab Economic field, and Fadia Shatila Hidar from Lebanon, The General Manager of Al-Hadil Magazine, as well as a delegation from Dar Al-Tifel Al-Arabi which was founded by Hend Al-Husseiny at Palestine.
The celebration has started at 11 a.m. with an opening speech delivered by Professor Gaber Nassar, President of Cairo University, a representative of the foundation of H.H. Sheikh Mohammed bin Rashid Al Maktoum, and a representative of ISESCO Organization. The guest of honor's speech has also been delivered by Fadia Shatila Hidar.
Documentary film on the ideal mother festival has been displayed through the celebration as well as displaying the resumes of the honorees and an artistic show, and then the festival was concluded with the distribution of shields and awards among ideal women.
Latest News
The President of Cairo University thanks Cambridge for the courage shown in its return to fairer assessment methods, which restored the world's confidence in it.
Cairo University Celebrates Forty Fifth Anniversary of October Victory
Cairo University President Meets Vice-President of Renmin University of China to Discuss Means of Cooperation of Belt and Road Initiative with Ain Shams University President Attending
Open Dialog by Minister of Islamic Endowments and Cairo University President with Students about Deconstructing Extremist Ideologies
Cairo University Organizes International Forum for Cultural Heritage entitled Popular Literature and Interdisciplinary Studies in Participation with Researchers from 9 States
Back