Professor Gaber Nassar, President of Cairo University, has made a surprise tour on Monday, March 23, 2015, for the facilities and buildings of the university campus. The tour included visiting a number of publishing houses, libraries and cafeterias, as well as some buildings which the university's workmen erase the offensive phrases written on. During his tour, Nassar met a number of students from different faculties. He listened to them concerning their conditions and study conditions, the complaints of some students, and the suggestions of the exams and teaching methods. Nassar welcomed the students' ideas and promised studying all their requests. Nassar met some staff members and took souvenir photos with students.
Cairo University President went to some cafeterias and bookstores. He asked the cafeterias' owners to provide the prices menus which should be affordable for students according to what is agreed upon with the university's administration. He confirmed that in case of any complaint regarding a certain cafeteria, necessary procedures will be followed for terminating its contract with the university administration.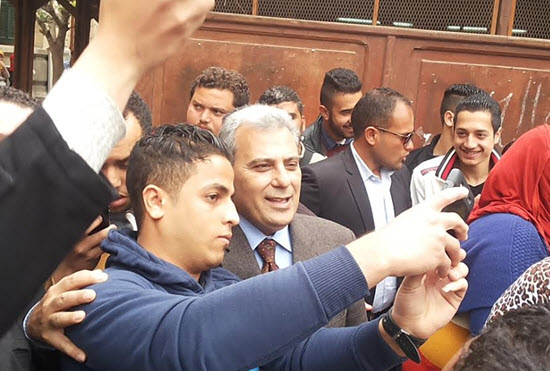 Latest News
The President of Cairo University thanks Cambridge for the courage shown in its return to fairer assessment methods, which restored the world's confidence in it.
Cairo University Celebrates Forty Fifth Anniversary of October Victory
Cairo University President Meets Vice-President of Renmin University of China to Discuss Means of Cooperation of Belt and Road Initiative with Ain Shams University President Attending
Open Dialog by Minister of Islamic Endowments and Cairo University President with Students about Deconstructing Extremist Ideologies
Cairo University Organizes International Forum for Cultural Heritage entitled Popular Literature and Interdisciplinary Studies in Participation with Researchers from 9 States
Back