On Wednesday, May 6, 2015, the activities of Cairo University celebration of The Egyptian-Italian Day for Scientific Heritage, organized by Science Heritage Center – Cairo University, were launched in cooperation with Scientific Office - Embassy of Italy in Egypt, Center for Documentation of Cultural & Natural Heritage, and New Central Library – Cairo University. This was sponsored by Prof. Dr.\ Gaber Nassar, President of Cairo University, and Maurizio Massari, Italy's Ambassador in Egypt.
The celebration activities were inaugurated by Prof. Dr.\ Gamal Abdul-Nasser, Vice President of Cairo University for Community Service and Environment Development Affairs, as a representative of Cairo University President. He illustrated in his speech the importance of this celebration which embodies integration and solidarity between civilizations.
Italy's ambassador's representative has expressed his pleasure with his visit to Cairo University. He confirmed the deepness of Egyptian-Italian relations and the importance of the cultural cooperation continuity between the two countries, illustrating the importance of the celebration held at the courtyard of Cairo University, the mother of Middle-East Universities, and the cradle of science, creativity and literature.
Dr.\ Hamed Eid, Director of Science Heritage Center, has said in his speech that the celebration of The Egyptian-Italian Day for Scientific Heritage is a launch of creative cooperation in scientific heritage field between Cairo University in the East and scientific Heritage institutions in Italy. He illustrated that both Egyptian and Ancient Roman civilizations represent a vital part of history. He added that the celebration represents a major cultural launch that boosts a steadfast relation between Italy and Egypt in various fields and at all levels.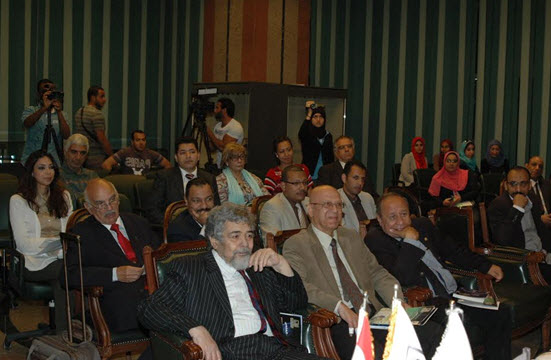 Latest News
The President of Cairo University thanks Cambridge for the courage shown in its return to fairer assessment methods, which restored the world's confidence in it.
Cairo University Celebrates Forty Fifth Anniversary of October Victory
Cairo University President Meets Vice-President of Renmin University of China to Discuss Means of Cooperation of Belt and Road Initiative with Ain Shams University President Attending
Open Dialog by Minister of Islamic Endowments and Cairo University President with Students about Deconstructing Extremist Ideologies
Cairo University Organizes International Forum for Cultural Heritage entitled Popular Literature and Interdisciplinary Studies in Participation with Researchers from 9 States
Back