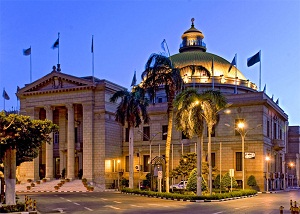 In the context of Cairo University concern in participating in international educational and research projects for raising the efficiency and quality of higher education and scientific research, the proposal of Faculty of Economics and Political Sciences, Cairo University, has won among many research proposals made to participate in "Tuning Africa" project which is proposed in cooperation between African Union and European Union at "Economics" program. Noteworthy, "Mechanical Engineering" program, Faculty of Engineering, Cairo University, has won the renewal of its participation from the first phase of the same project into "Tuning Africa, Phase II". Besides, Faculty of Engineering, Cairo University, continues its role as a coordinator of mechanical engineering program among participant universities.
This comes in the context of the efforts of Cairo University International Relation Office to increase the contribution of the university in international projects which helps the university in international competition and contribute to raising the ranking of the university. The contribution to this initiative will be an opportunity for developing curricula on the basis of efficiency, establishing skills in education and learning field, limiting the number of teaching accredited hours and developing assessment methods. It will also allow the development of joint agreements among the winning universities at this project counting 120 African Universities, as well as participating in communication network at the level of Africa and at the international level. Participating in the project means a great contribution to achieving strategic targets of Africa for higher education compatibility.
Latest News
The President of Cairo University thanks Cambridge for the courage shown in its return to fairer assessment methods, which restored the world's confidence in it.
Cairo University Celebrates Forty Fifth Anniversary of October Victory
Cairo University President Meets Vice-President of Renmin University of China to Discuss Means of Cooperation of Belt and Road Initiative with Ain Shams University President Attending
Open Dialog by Minister of Islamic Endowments and Cairo University President with Students about Deconstructing Extremist Ideologies
Cairo University Organizes International Forum for Cultural Heritage entitled Popular Literature and Interdisciplinary Studies in Participation with Researchers from 9 States
Back