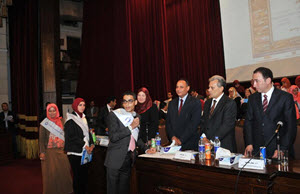 Prof. Dr. Gaber Nassar, President of Cairo University, and Prof. Dr. Mahmoud Saqr, Head of Scientific Research Academy, have witnessed the graduation ceremony of 105 researchers of The Next Generation of Scientists Project. The ceremony is held for top-ranked graduates of universities who successfully completed their training programs at Faculty and Leadership Development Center, affiliated to Cairo University. The ceremony was witnessed by Prof. Dr. Gamal Essmat, Vice President of Cairo University for Graduate Studies and Research, Prof. Dr. Merette Rostom, Director of The Next Generation of Scientists Project, which is supervised by Scientific Research Academy, Prof. Dr. Amr Mustafa, Director of Faculty and Leadership Development Center, Cairo University, as well as a number of professors and researchers.
Noteworthy, the program aims at qualifying youth researchers who are participants of scientific research leadership in science and technology at their various institutions and universities. The project is conducted through the instructions of the President of the Republic of Egypt, aiming at preparing a well-trained generation of youth researchers as top-ranked graduates of different Egyptian Universities have applied for this project.
Latest News
The President of Cairo University thanks Cambridge for the courage shown in its return to fairer assessment methods, which restored the world's confidence in it.
Cairo University Celebrates Forty Fifth Anniversary of October Victory
Cairo University President Meets Vice-President of Renmin University of China to Discuss Means of Cooperation of Belt and Road Initiative with Ain Shams University President Attending
Open Dialog by Minister of Islamic Endowments and Cairo University President with Students about Deconstructing Extremist Ideologies
Cairo University Organizes International Forum for Cultural Heritage entitled Popular Literature and Interdisciplinary Studies in Participation with Researchers from 9 States
Back