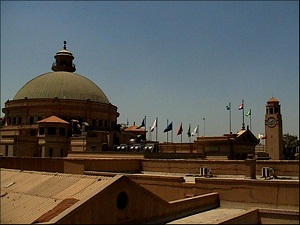 Prof. Dr. Gaber Nassar, President of Cairo University, held a meeting at Faculty of Science, Cairo University, attended by Faculty Dean, Vice Deans, Chairs of Departments and staff members. The faculty development plan of both educational and research aspects in all departments were discussed during the meeting as well as fixing the problems that surround the educational process and scientific research.
Moreover, the comprehensive upgrading plan for the laboratories of the faculty throughout two years according to what is seen by the formed committee for making development plan for Faculty of Science laboratories which has been updated 50 years ago on two phases with a funding value that reaches 60 million EGP. The faculty encompasses laboratories of departments of chemistry, physics, botany, zoology, geology and others.
Prof. Dr. Gaber Nassar said that the university is committed to providing the necessary funding for this development which aims at enhancing the infrastructure, developing the laboratories of the academic staff and students and enhancing the scientific devices to keep up with global developments in basic and applied sciences. He pointed out that this funding comes from the university self-resources and the donations offered by staff members and businessmen.
Nassar has declared that the businessman Engineer Hasan Rateb, Chairman of the Board of Trustees of Sinai University, will donate for Cairo University to develop one of the labs of Faculty of Science completely, which is included in a plan made by the university to develop and upgrade Faculty of Science labs.
Latest News
The President of Cairo University thanks Cambridge for the courage shown in its return to fairer assessment methods, which restored the world's confidence in it.
Cairo University Celebrates Forty Fifth Anniversary of October Victory
Cairo University President Meets Vice-President of Renmin University of China to Discuss Means of Cooperation of Belt and Road Initiative with Ain Shams University President Attending
Open Dialog by Minister of Islamic Endowments and Cairo University President with Students about Deconstructing Extremist Ideologies
Cairo University Organizes International Forum for Cultural Heritage entitled Popular Literature and Interdisciplinary Studies in Participation with Researchers from 9 States
Back