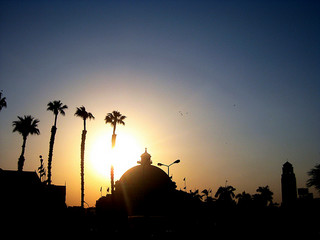 As a new achievement by Faculty of Engineering students, at Cairo University, Prof. Dr. Gaber Nassar, President of Cairo University, announced the win of architectural engineering program students of the faculty with the accredited hour system. They have won the first awards for the best projects (posters) presented to the third Med Green Forum for Sustainable Green Architecture organized by World Council for Renewable Energy (WCRE) in cooperation with University of Florence, Italy, where the forum convened. It is sponsored by both the Italian Foreign Ministry and the Italian Ministry of Economy, Italian Trade Commission, as well as ISESCO Organization, Bahrain Technical College and Romania Technical University. Students representing several countries have participated in the contest.
Prof. Dr. Sherif Murad, Dean of Faculty of Engineering, Cairo University, said that 30 students of the faculty were divided into seven groups. Prof. Dr. Mohsen Abul-Naga, Professor of Sustainable Environment and Green Buildings, Faculty of Engineering, has supervised these groups in coordination with Prof. Dr. Sherin Wahba, The Program Coordinator, and Prof. Dr. Ali Gabr, Faculty Vice Dean for Education and Students Affairs. The faculty students groups participated with seven projects of green smart buildings among 18 competing groups from Italy and Ecuador. Three groups of Cairo University Students have won the first awards as the best presented projects in the contest which was arbitrated by international experts from England, Italy, Romania and Bahrain.
Nassar commended the activities of Faculty of Engineering, Cairo University, in developing student skills and providing them with experience in various branches of engineering. He also commended the participation of Faculty of Engineering students in student international contests and forums related to the ability of students to innovate, excel and achieve good results in the name of Cairo University in several international contests. Cairo University President said that the university encourages and supports its talented students in all fields. It also encourages scientific research among students through research teams with the supervision of professors and publishing them internationally in the name of Cairo University, and bonuses were dedicated for this.
Latest News
The President of Cairo University thanks Cambridge for the courage shown in its return to fairer assessment methods, which restored the world's confidence in it.
Cairo University Celebrates Forty Fifth Anniversary of October Victory
Cairo University President Meets Vice-President of Renmin University of China to Discuss Means of Cooperation of Belt and Road Initiative with Ain Shams University President Attending
Open Dialog by Minister of Islamic Endowments and Cairo University President with Students about Deconstructing Extremist Ideologies
Cairo University Organizes International Forum for Cultural Heritage entitled Popular Literature and Interdisciplinary Studies in Participation with Researchers from 9 States
Back