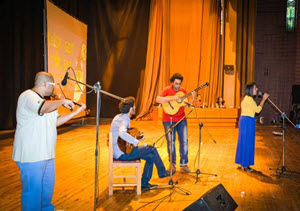 The first student competition is organized at Cairo University for discovering student talents in poetry, painting, singing, strumming, and theatrical acting. Talented students are selected by the filtration system through voting among arbitration committee in its ceremonies that are held in three phases or on the official website of the competition. The competition is called (Cairo Got Talent). It is organized by Forsan El-KasrTeam, Faculty of Medicine, Kasr Al Aini. The competition was only confined to the students of both Faculty of Medicine and Faculty of Oral and Dental Medicine throughout the last two years, and then it included all students of Cairo University in the current season. Forsan El-Kasr Team had announced its talent competition of the current season during the summer period. Five hundred and sixty three students from all Cairo University faculties have applied for entering the filtration. The best 45 were selected to enter the second phase or pre-finals to be filtered also to select 15 competitors so as to filter only 4 competitors for the finals. The arbitration committee includes art stars and academicians for arbitrating the competition.
Prof. Dr. Hala Salah, Faculty of Medicine Vice Dean for Education and Students Affairs, said that the first ceremony of Cairo University student talent discovery (Cairo Got Talent) is going to be held on Thursday, October 8, 2015, at 4 p.m., at Conference Center, Faculty of Medicine, Kasr Al Aini. Dean of Faculty of Medicine, Kasr Al Aini, professors, students and artistic figures will be witnessing the ceremony. The competition finale and the closing ceremony are going to be held on Thursday, October 29, 2015, at Grand Celebration Hall, Cairo University Campus, which is to be witnessed by Prof. Dr. Gaber Nassar, Cairo University President.
Latest News
The President of Cairo University thanks Cambridge for the courage shown in its return to fairer assessment methods, which restored the world's confidence in it.
Cairo University Celebrates Forty Fifth Anniversary of October Victory
Cairo University President Meets Vice-President of Renmin University of China to Discuss Means of Cooperation of Belt and Road Initiative with Ain Shams University President Attending
Open Dialog by Minister of Islamic Endowments and Cairo University President with Students about Deconstructing Extremist Ideologies
Cairo University Organizes International Forum for Cultural Heritage entitled Popular Literature and Interdisciplinary Studies in Participation with Researchers from 9 States
Back