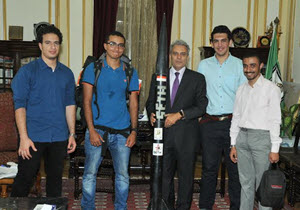 Prof. Dr. Gaber Nassar, President of Cairo University, met a number of Faculty of Engineering students at Ahmed Lotfy El-Sayed Hall, Cairo University. They represent 10 groups of student teams who participated in international forums and competitions of universities students, which are interested in inventions and excellence in scientific innovations and research among the world universities students. Advanced results and places were achieved in the name of Cairo University at the international competitions they participated in.





The meeting was attended by Cairo University Vice Presidents; Prof. Dr. Gamal Essmat, Vice President of Cairo University for Graduate Studies and Research Affairs, Prof. Dr. Ezzuldin Abu-Steit, Vice President of Cairo University for Education and Student Affairs, Prof. Dr. Said Daw, Vice President of Cairo University for Community Service and Environment Development, Prof. Dr. Sherif Murad, Faculty of Engineering Dean, and Vice Deans of Faculty of Engineering. Professors supervising projects and innovations presented by students in international competitions, such as designing cars for off-road and exploration, designing airplanes and satellites, designing energy-saving building models and designing and launching a missile, have also attended the meeting.





At the beginning of the meeting, Prof. Dr. Gaber Nassar commended the positive participation and good results achieved by Faculty of Engineering students in a number of international competitions and workshops at Asia, Europe and America. He asked them to continue this sort of global competitions that achieve good reputation for Cairo University, its students and graduates. He confirmed that Cairo University boosts talented and creative students and encourage scientific research among students through research teams supervised by faculty professors. He also said that the university has talented students in scientific research; among them is astudent team from Faculty of Medicine which published more than two scientific researches at a major international scientific journal on hypertension in the name of Cairo University which donated them the award dedicated for international publication. Student teams from faculties of science and medicine at Cairo University, and faculties of medicine, engineering and computers at Ain Shams University, supervised by professors from the two universities, participated in a student project which won the third place in the global competition for genetic engineering at the United States.
Latest News
The President of Cairo University thanks Cambridge for the courage shown in its return to fairer assessment methods, which restored the world's confidence in it.
Cairo University Celebrates Forty Fifth Anniversary of October Victory
Cairo University President Meets Vice-President of Renmin University of China to Discuss Means of Cooperation of Belt and Road Initiative with Ain Shams University President Attending
Open Dialog by Minister of Islamic Endowments and Cairo University President with Students about Deconstructing Extremist Ideologies
Cairo University Organizes International Forum for Cultural Heritage entitled Popular Literature and Interdisciplinary Studies in Participation with Researchers from 9 States
Back