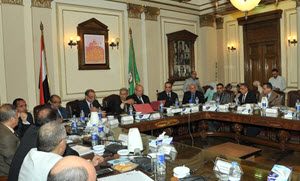 Prof. Dr. Gaber Nassar, Cairo University President, held a meeting at Ahmed Lotfy El-Sayed Hall – Cairo University for both councils of the Faculty of Arts and Faculty of Dar El-Ulum, in the presence of the university vice presidents. The meeting discussed the aspects of cooperation and communication between the two faculties as they are the richest components of the university in terms of the cognitive and cultural aspects. The meeting also tackled the activation of new frameworks of cooperation between the two faculties concerning interdisciplinary specialties, such as; the Arabic Language, Oriental Languages, Islamic Culture and Philosophy. The meeting also handled establishing the betweenness post-graduate studies for the two faculties to join, as well as exchanging professors in interdisciplinary specialties.
The meeting decided to form a committee of professors of the two faculties for elaborating the concept of activating a cultural and cognitive program for both faculties to join. The meeting was attended by elite of professors of both faculties, including Dr. Hussein Nassar, Dr. Mahmoud Fahmy Hegazy, Dr. Hamed Taher, as well as the deans of both faculties and members of both councils.
Cairo University President is to hold a meeting at both councils of the Faculty of Sciences and Laser Institute, as well as both councils of the Faculty of Medicine and Faculty of Nursing, next week.
Latest News
The President of Cairo University thanks Cambridge for the courage shown in its return to fairer assessment methods, which restored the world's confidence in it.
Cairo University Celebrates Forty Fifth Anniversary of October Victory
Cairo University President Meets Vice-President of Renmin University of China to Discuss Means of Cooperation of Belt and Road Initiative with Ain Shams University President Attending
Open Dialog by Minister of Islamic Endowments and Cairo University President with Students about Deconstructing Extremist Ideologies
Cairo University Organizes International Forum for Cultural Heritage entitled Popular Literature and Interdisciplinary Studies in Participation with Researchers from 9 States
Back