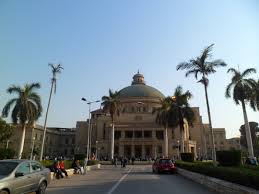 Organized by the university and sponsored by Prof. Dr. Gaber Nassar, Cairo University President, the cultural and artistic season at Cairo University of the second term of academic year 2015/ 2016 are being completed. On Wednesday, February 17, 2016, at 6 p.m., Cairo University receives the Islamic herald, Habib Ali al-Jifri, as a guest at Grand Celebration Hall in an open meeting with students.
Nassar says that cultural and artistic season activities during second term are going to be full of open intellectual, scientific and cultural meetings with students, staff members and employees in participation with elite of thinkers and scientists. This includes a meeting with Minister of Culture, Helmy Namnam, on March 14, 2016, and a meeting with Minister of Islamic Endowments, Dr. Mohamed Mokhtar Gomaa, during the same month. Grand Celebration Hall – Cairo University witnesses a number of artistic and musical activities in cooperation with Ministry of Culture and Cairo Opera House, and a concert by Hany Shaker on March 15, 2016.
Latest News
The President of Cairo University thanks Cambridge for the courage shown in its return to fairer assessment methods, which restored the world's confidence in it.
Cairo University Celebrates Forty Fifth Anniversary of October Victory
Cairo University President Meets Vice-President of Renmin University of China to Discuss Means of Cooperation of Belt and Road Initiative with Ain Shams University President Attending
Open Dialog by Minister of Islamic Endowments and Cairo University President with Students about Deconstructing Extremist Ideologies
Cairo University Organizes International Forum for Cultural Heritage entitled Popular Literature and Interdisciplinary Studies in Participation with Researchers from 9 States
Back