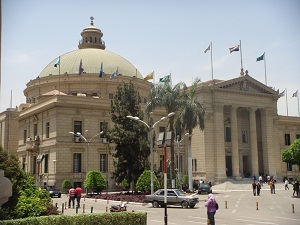 Prof. Dr. Gaber Nassar, Cairo University President, started the activities of his visit to Japan on Saturday, February 20, 2016, being invited by Hiroshima University, continuing for five days to sign scientific and academic cooperation agreement with Hiroshima University. The agreement includes partnership fields between Cairo University and Hiroshima University in science, technology, and training and professor exchange. Additionally, common programs in some academic specialties are being discussed and taught in English at some faculties of Cairo University. During his visit to Japan, Prof. Dr. Gaber Nassar was accompanied by Prof. Dr. Hany El-Shimy, Faculty of Agriculture Dean.
In December, 2015, Cairo University President was invited by Hiroshima University President to sign an agreement that was discussed and defined in terms of its understanding parameters.
The agenda of Cairo University President visit to Japan included his meeting with the Mayor of Hiroshima in the context of a fraternity protocol signed between Giza and Hiroshima in December 2015, besides meeting Egyptian scholars in Hiroshima University. Cairo University President visits, accompanied by Faculty of Agriculture Dean, Ajinomoto, the laboratories of global food company, to study the possibility of cooperation with Faculty of Agriculture, Cairo University, in food technology and manufacturing field.
Latest News
The President of Cairo University thanks Cambridge for the courage shown in its return to fairer assessment methods, which restored the world's confidence in it.
Cairo University Celebrates Forty Fifth Anniversary of October Victory
Cairo University President Meets Vice-President of Renmin University of China to Discuss Means of Cooperation of Belt and Road Initiative with Ain Shams University President Attending
Open Dialog by Minister of Islamic Endowments and Cairo University President with Students about Deconstructing Extremist Ideologies
Cairo University Organizes International Forum for Cultural Heritage entitled Popular Literature and Interdisciplinary Studies in Participation with Researchers from 9 States
Back