Prof. Dr. Gaber Nassar, Cairo University President, met the delegation of National Chinese Office for International Cooperation, headed by Shia Giang Khoe, against the backdrop of laying Confucius Institute foundation stone at Cairo University, in the presence of Liu Yandong Vice Premier of China State Council. The meeting was witnessed by Prof. Dr. Moataz Abdullah, Faculty of Arts Dean, Prof. Dr. El-Husseiny, Faculty Vice-Dean for Education and Students Affairs, and Prof. Dr. Rehab Mahmoud, the Director of Confucius Institute – Cairo University.
Cairo University President discussed with the Chinese delegation the futuristic strategy of the institute, founded at Cairo University in 2007 under the agreement among Cairo University, Peking University and National Chinese Office. The two parties discussed different means of cooperation to reach best results in Chinese language learning, habilitate professors in this field, and develop fields of cultural exchange and cooperation between Cairo University and Chinese educational and academic institutions.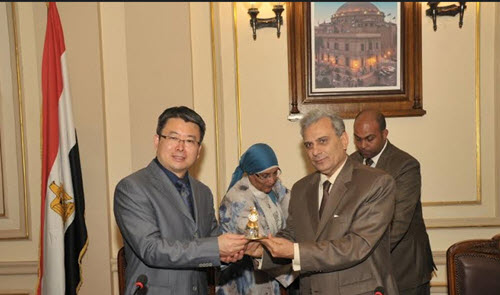 Latest News
The President of Cairo University thanks Cambridge for the courage shown in its return to fairer assessment methods, which restored the world's confidence in it.
Cairo University Celebrates Forty Fifth Anniversary of October Victory
Cairo University President Meets Vice-President of Renmin University of China to Discuss Means of Cooperation of Belt and Road Initiative with Ain Shams University President Attending
Open Dialog by Minister of Islamic Endowments and Cairo University President with Students about Deconstructing Extremist Ideologies
Cairo University Organizes International Forum for Cultural Heritage entitled Popular Literature and Interdisciplinary Studies in Participation with Researchers from 9 States
Back