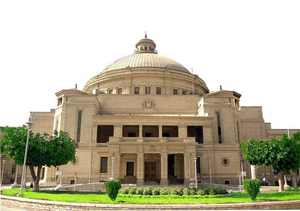 Cairo University President Gaber Nassar approved the student activity program during summer vacation for 2016. The program includes opening the university playgrounds for students to practice various sport activities under the supervision of specialized trainers. In addition, a recreational, cultural student camp is going to be held at Cairo University summer resort at Marsa Matruh. Moreover, the summer program includes organizing training camp for developing leadership skills of university youth at the university playgrounds. Additionally, training camp for young ladies is going to be established as a preparation for participating in young ladies week at Minia University. Besides, training courses and student workshops are going to be formed in participation with specialized professors at Science Club at the university playgrounds in fields of handcrafts, computer and electronics learning. Summer student activity program for Cairo University students focuses on developing skills of leadership, teamwork skills, homeland service and increasing practical experiences.
Prof. Dr. Gaber Nassar said that benefitting from potentials available at the university playgrounds should be provided by allowing sport activity practice during summer vacation to students especially those with special needs. He also pointed out that investing leisure time in fruitful activities during summer vacation develops the abilities of young men and ladies and increases their sense of belonging to homeland and university.
Cairo University Vice-President for Student and Education Affairs Mohamed Osman El-Khosht announced that educational, recreational, social student camp is to be organized during the period from July 18 to September 5, 2016, at Cairo University summer resort at Marsa Matruh. The camp is divided into five regiments with six days for each, three regiments for male students and two regiments for female students and each regiment accommodates 150 students. The camp activities include workshops in which university professors will lecture topics revolve around the role of youth in establishing patriotic state, methods of combating terrorism and small projects and their role in development. Marsa Matruh camp also covers cultural, riparian, sport and social activities.
El-Khosht added that a training camp for preparing leaders at the university playgrounds is going to be organized for developing the leadership skills of university students by mid-July, 2016. The training camp aims at early preparation of future leaders among university students to be able to practice leadership at managerial institutions and contribute effectively to lifting up homeland. The camp consists of a series of workshops in various managerial, leadership, economic and political skills. El-Khosht pointed out that the camp aims at rectifying misconceptions about leadership jobs, knowing means of managerial and leadership skills of university students and entrenching values of loyalties, belonging, responsibility and ethics. Moreover, the training camp heads in training students on crises management, establishing personal relationships and forming work teams. The camp encompasses five regiments of four days for each and a single regiment accommodates 50 students. The university will host a number of experts and specialists to benefit from their personal experiences and hold dialog with students.
Summer activity program for Cairo University students contains camp establishment for female students as a preparation for participating in young ladies week at Minia University. Female students will participate in athletics, table tennis, squash, volleyball, penta football, Choral Team and Gawala Team for Girls. In addition, workshops will be held for students in various artistic fields such as sculpture, pottery making, painting, and printed paintings.
Latest News
The President of Cairo University thanks Cambridge for the courage shown in its return to fairer assessment methods, which restored the world's confidence in it.
Cairo University Celebrates Forty Fifth Anniversary of October Victory
Cairo University President Meets Vice-President of Renmin University of China to Discuss Means of Cooperation of Belt and Road Initiative with Ain Shams University President Attending
Open Dialog by Minister of Islamic Endowments and Cairo University President with Students about Deconstructing Extremist Ideologies
Cairo University Organizes International Forum for Cultural Heritage entitled Popular Literature and Interdisciplinary Studies in Participation with Researchers from 9 States
Back