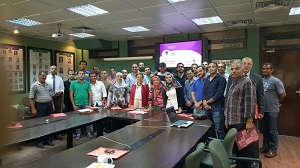 Anti-Harassment Unit – Cairo University organized a training course for administrative security personnel on anti-harassment policy inside the university campus.
Thirty trainees of faculties security and rapid deployment security joined the training course which was held at Seminars Hall, Open Education building, Cairo University. The training course included a group of seminars, lectures and workshops in participation with distinctive elite of executive committee members of Anti-Harassment Unit – Cairo University. The course focused on introducing societal patterns relevant to harassment, the legal framework in confronting harassment, introducing the trainees to the unit and its role as well as the administrative security role at the university against harassment.
According to the Director of Anti-Harassment Unit – Cairo University Maha El-Said, the course aims at introducing administrative security personnel to the university policy in combating harassment under the theme ،،Cairo University Is Secure for All,,. Administrative security personnel will be trained on how to behave professionally when intervening against harassment cases and how to edit memorandums regarding accidents and deal with the harassment complaints they receive.
A group of instructions concerning harassment accidents and course completion certificates will be distributed among the trainees by the end of the course.
Anti-Harassment Unit – Cairo University was established by the university two years ago. It is sponsored by Cairo University President Gaber Nassar. The unit aims at providing educational atmosphere in which students enjoy recognition, respect and equality in rights and duties. The unit encompasses professors and students. It carries out many activities in cooperation with Civil Community institutions that contribute to achieving its policies.
Latest News
The President of Cairo University thanks Cambridge for the courage shown in its return to fairer assessment methods, which restored the world's confidence in it.
Cairo University Celebrates Forty Fifth Anniversary of October Victory
Cairo University President Meets Vice-President of Renmin University of China to Discuss Means of Cooperation of Belt and Road Initiative with Ain Shams University President Attending
Open Dialog by Minister of Islamic Endowments and Cairo University President with Students about Deconstructing Extremist Ideologies
Cairo University Organizes International Forum for Cultural Heritage entitled Popular Literature and Interdisciplinary Studies in Participation with Researchers from 9 States
Back