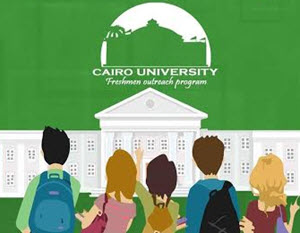 The Community Service and Environmental Development Sector – Cairo University organizes ،،Awareness Week,, on Sunday, September 18, 2016. The awareness week is arranged in the framework of Cairo University preparations to receive its new students in the academic year 2016/ 2017. The awareness week activities are sponsored by Cairo University President Gaber Nassar and held over four days at Cairo University Grand Celebration Hall and playgrounds. ،،Awareness Week,, is a new tradition held for the first time to introduce new students to their university, its history, facilities, social and service projects and important places.

The Awareness Week Coordinator Rolla Samy pointed out that ،،the week activities start at 10 a.m., Sunday, September 18, 2016, by receiving new students at Cairo University Grand Celebration Hall in participation with previously enrolled students from various faculties. ,, Prof. Dr. Gaber Nassar will deliver welcome speech, followed by documentary films on Cairo University emergence history, a simple map of the university faculties, social and service units at the university and Cairo University notable graduates. Some of Cairo University graduates of artists, writers and poets will be honored. ،،The Lower Depths,, play by Faculty of Engineering theatrical team will be screened. Documentary films will be screened on the Central Library and some service centers and units of the university, such as Center for Foreign Languages and Translation, Community Service Center, Center for Skills Development and Entrepreneurship, Anti-Harassment Unit. Moreover, documentary films on Students Hospital, The University Hostel, The University Playgrounds and The University Theater will be screened. In addition, there will be artistic shows including،، sketches,, and،،The Fate,, Play by Faculty of Commerce theatrical team as well as acquaintance activities.

Student activities will be held at the university playgrounds at the university hostel including pentagon football between students and academic staff members, and artistic competitions in which previously enrolled students participate.

The Community Service and Environmental Development Sector – Cairo University launched an URL for recording and following up the week activities among students and means of communicatio
.
Latest News
The President of Cairo University thanks Cambridge for the courage shown in its return to fairer assessment methods, which restored the world's confidence in it.
Cairo University Celebrates Forty Fifth Anniversary of October Victory
Cairo University President Meets Vice-President of Renmin University of China to Discuss Means of Cooperation of Belt and Road Initiative with Ain Shams University President Attending
Open Dialog by Minister of Islamic Endowments and Cairo University President with Students about Deconstructing Extremist Ideologies
Cairo University Organizes International Forum for Cultural Heritage entitled Popular Literature and Interdisciplinary Studies in Participation with Researchers from 9 States
Back