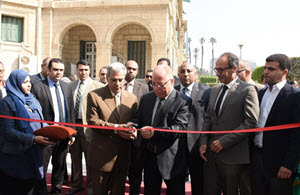 The Egyptian Minister of Culture Helmy Namnam and Cairo University President Gaber Nassar opened a book fair at Cairo University campus. The book fair is organized by Cairo University in cooperation with The Ministry of Culture. It contains more than 1, 500 books including scientific, ideological, cultural and cognitive books issued by General Egyptian Book Organization and The Egyptian National Library and Archives with discounts for academic staff members and students until 30% of cost.
The Minister and Cairo University President inspected varied volumes inside the fair which is scheduled to continue for two weeks. Namnam and Nassar also inspected the constant fair of The Ministry of Culture, entitled ،،Read,, , encompassing a large group of volumes issued by the ministry.
The Minister of Culture said ،،there is a cooperation between The Ministry of Culture and Cairo University in many fields, cultural and artistic activities. ,, He pointed out ،،there are partnership and initiatives between The Ministry and The University in cultural and cognitive fields. ,,
Latest News
The President of Cairo University thanks Cambridge for the courage shown in its return to fairer assessment methods, which restored the world's confidence in it.
Cairo University Celebrates Forty Fifth Anniversary of October Victory
Cairo University President Meets Vice-President of Renmin University of China to Discuss Means of Cooperation of Belt and Road Initiative with Ain Shams University President Attending
Open Dialog by Minister of Islamic Endowments and Cairo University President with Students about Deconstructing Extremist Ideologies
Cairo University Organizes International Forum for Cultural Heritage entitled Popular Literature and Interdisciplinary Studies in Participation with Researchers from 9 States
Back