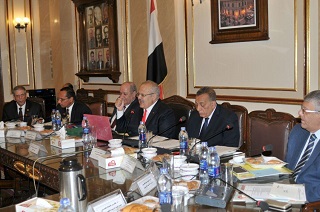 Cairo University Council reviews in its meeting, headed by Cairo University President Gaber Nassar, the progress of second term exams that started by mid-May, 2017, at faculties. The council stresses, in its meeting, solving any problem that may arise during exams and the existence of professors in time of their subject exams. Exam correction and controls should begin immediately after the exam of each subject. Students answer sheets should quickly be exchanged among professors, corrected, and revised. Students marks accuracy should be ensured. Results should be announced consecutively after exams until the first week of July.

Cairo University Vice-President for Education and Students Affairs Mohamed Osman Al-Khosht pointed out that ،،Second term exams at Cairo University faculties progress according to a disciplined system. Exam control room has not receive complaints regarding exams until now.,, Al-Khosht said that ،،No excesses, that may influence exams, took place.,, He added ،،Cheating cases among students that were monitored until now are very few. Cheating cases are dealt with according to the rules approved by Cairo University Council.,, Al-Khosht said that ،،All exams are finished at 3:30 p.m. during Ramadan well in advance of Iftar.,, He pointed out that ،،all means of comfort are allowed to students to perform their exams. Any complaint concerning exam is treated in time.,,

Cairo University Council welcomes the most recent book issued by the famous Chinese Shanghai Ranking regarding the best 500 universities at the world level. Cairo University received a copy of the book. The book preface presents a part on Cairo University as an appreciation of its success and preservation of a distinctive position in the international ranking. Shanghai is the most prominent ranking at world level. Cairo University is globally ranked the 420th university. The book preface refers to Cairo University ability to keep its role in scientific research and presenting distinctive education and community service. Cairo University achieves this success although the number of its students amounts to 250, 000, 000 students.

Cairo University President Gaber Nassar said that ،،the book allocated a page or two for each university among the 500 globally ranked universities. Cairo University has two pages in the book that handle its history that extends to more than 100 years, its progress in education development, contribution to scientific research and local community service. It is the only Egyptian university that comes among the best 500 universities all over the world. Cairo University kept its position in the ranking until it occupied a distinctive ranking, as the book mentioned, in the last two years.,,

Cairo University Vice-President for Postgraduate Studies and Research Affairs Amr Adly pointed out that ،،Cairo University excelled, as mentioned in Shanghai Ranking book, over globally famous universities. These universities include Arkansas State University in the United States of America, TU Wien University in Austria, University of Essex in the United Kingdom, University of Bergen and Ludovic University in Germany.,,
Latest News
The President of Cairo University thanks Cambridge for the courage shown in its return to fairer assessment methods, which restored the world's confidence in it.
Cairo University Celebrates Forty Fifth Anniversary of October Victory
Cairo University President Meets Vice-President of Renmin University of China to Discuss Means of Cooperation of Belt and Road Initiative with Ain Shams University President Attending
Open Dialog by Minister of Islamic Endowments and Cairo University President with Students about Deconstructing Extremist Ideologies
Cairo University Organizes International Forum for Cultural Heritage entitled Popular Literature and Interdisciplinary Studies in Participation with Researchers from 9 States
Back