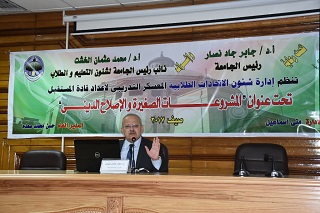 Cairo University Vice-President for Education and Students Mohamed Osman Al-Khosht accentuates the importance of religious discourse that stresses the significance of work, production, and individual responsibility development. He pointed out that ،،serious work is worship; sincerity in trade is the origin of establishing trust in transactions and livelihood is associated with exerting individual effort and opening new fields for work.,,
Al-Khosht touches on, in a lecture he delivers at the leaders preparation camp organized by Cairo University for its students, that ،،changing value system is an important issue in linking renewing religious discourse to economic development.,, He said ،،value system is the basis of the ideas that governs small projects and economic development related to planning, creative thinking, bearing individual responsibility, and self-dependence skills development.,,
Al-Khosht added that ،،commercial and industrial fraud is related to reactionary religious discourse.,, He pointed out that ،،religious reformation should be based on sincerity, work and bearing responsibility.,,
The Future Leaders Camp is launched by Cairo University on July 1, 2017, until mid-August, 2017, for its students. It is sponsored by Cairo University President Gaber Nassar. Nearly 600 students participate in its activities on regiments. The camp involves training courses for students in negotiation and decision making skills, and educational lectures that are aimed at teaching leadership skills to students.
Latest News
The President of Cairo University thanks Cambridge for the courage shown in its return to fairer assessment methods, which restored the world's confidence in it.
Cairo University Celebrates Forty Fifth Anniversary of October Victory
Cairo University President Meets Vice-President of Renmin University of China to Discuss Means of Cooperation of Belt and Road Initiative with Ain Shams University President Attending
Open Dialog by Minister of Islamic Endowments and Cairo University President with Students about Deconstructing Extremist Ideologies
Cairo University Organizes International Forum for Cultural Heritage entitled Popular Literature and Interdisciplinary Studies in Participation with Researchers from 9 States
Back