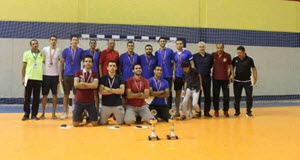 Cairo University wins the general shield for sport competitions in Universities Youth Week held at Menoufia University. The week activities are concluded on Monday when Cairo University scores number one in table tennis for men, number one in handball for men, number one in volleyball for girls, and number three in wrestling. Cairo University volleyball girl team succeeds in gaining the competition name after scoring three goals over Helwan University team who scored one goal.
Cairo University handball team gains championship after winning over Helwan University with 33/26 in the final game.
Cairo University scores number one in sculpture for non-specialists and fine arts for specialists. It also scores number one in television correspondents and economic research.
Cairo University earlier participated in Universities Youth Week activities by a delegation headed by Cairo University President Mohamed Osman Elkhosht. The delegation is composed of more than 100 students from Cairo University faculties in different sport and cultural activities including information competitions and wall magazines, and artistic activities including fine arts, chorus, music, and scientific activities.
Prof. Dr. Mohamed Osman Elkhosht said that ،،Cairo University students score advanced numbers in the competitions of Universities Youth Week.,, He pointed out that ،،Cairo University cares much about student activities and participates in different forums whether at Egyptian or Arab level within the framework of fair competition in different activities.,,
Latest News
The President of Cairo University thanks Cambridge for the courage shown in its return to fairer assessment methods, which restored the world's confidence in it.
Cairo University Celebrates Forty Fifth Anniversary of October Victory
Cairo University President Meets Vice-President of Renmin University of China to Discuss Means of Cooperation of Belt and Road Initiative with Ain Shams University President Attending
Open Dialog by Minister of Islamic Endowments and Cairo University President with Students about Deconstructing Extremist Ideologies
Cairo University Organizes International Forum for Cultural Heritage entitled Popular Literature and Interdisciplinary Studies in Participation with Researchers from 9 States
Back