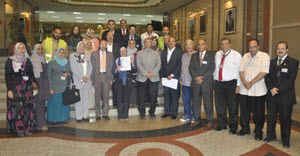 Cairo University President Mohamed Osman Elkhosht announces that New Central Library is certified ISO 2008/9001 for the third year respectively according to the recommendation of International Audit Committee that acknowledges the effective role played by New Central Library. The New Central Library is a cultural edifice at Cairo University. The library is a continuation of Cairo University successful service progress in academic community including students, researchers, and academic staff members. The library also serves educational, cultural, research, and social fields.
Elkhosht acclaims the role of New Central Library, at Cairo University, and the development it witnesses. He asserts that Cairo University supports the library and provides it with all key ingredients of success to remain one of the largest university libraries in the Middle East.
ISO certificate is received by the Director of New Central Library Amany Refaat, Cairo University Vice-President for Postgraduate Studies and Research Amr Adly, employees at the library, and representatives of ISO certificate donors.
New Central Library, at Cairo University, is earlier certified ISO for the first time in 2015, then in 2016, and again in 2017 despite the difficulty of evaluation criteria.
The Director of New Central Library Amany Refaat said that ،،The New Central Library is one of the first university libraries that are certified ISO in Egypt and the Middle East.,, She pointed out that ،،The library presents the best library and knowledge services by using the most modern means of technology including developed digital scanning unit and digital library.,, She added that ،،Digital repository is established for Cairo University conferences and other cultural and artistic activities organized by the library.,,
Latest News
The President of Cairo University thanks Cambridge for the courage shown in its return to fairer assessment methods, which restored the world's confidence in it.
Cairo University Celebrates Forty Fifth Anniversary of October Victory
Cairo University President Meets Vice-President of Renmin University of China to Discuss Means of Cooperation of Belt and Road Initiative with Ain Shams University President Attending
Open Dialog by Minister of Islamic Endowments and Cairo University President with Students about Deconstructing Extremist Ideologies
Cairo University Organizes International Forum for Cultural Heritage entitled Popular Literature and Interdisciplinary Studies in Participation with Researchers from 9 States
Back