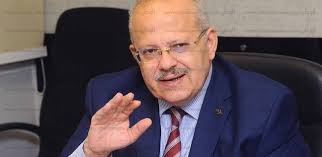 Cairo University President Mohamed Osman Elkhosht enunciates that Cairo University aims at converting open education into blended learning which is based on electronic education and uses more than one educational style of study. Prof. Dr. Mohamed Osman Elkhosht said in press statements that ،،Blended learning is based on utilizing satellite channels and Youtube videos in education, in addition to face-to-face learning with 25% of training programs.,, Elkhosht pointed out that ،،Supreme Council of Universities approves blended learning system which begins with launching B.Sc. of Commerce, business science program, and is to be applied in the other Egyptian Universities.,,
Cairo University President said that ،،Cairo University hopes it will change into smart university that parallels global universities.,, He pointed out that ،،He seeks the implementation of mechanization in Cairo University by using smart applications system in the different transactions of university.,,
Elkhost said that ،،Cairo University is considering a plan for benefitting from scientific research papers, Master and Doctorate theses of different faculties by focusing on research projects that have direct benefits for the state economy and development.,, He pointed out that ،،An agreement has been reached with Cairo University Vice-President for Postgraduate Studies and Research Amr Adly, in Cairo University Council meeting, on Policies formulation and implementation to enhance the university international ranking.,,
Cairo University President Elkhosht said that ،،Contacts are established with the Head of Cairo Opera House Enas Abdel-Dayem to hold artistic activities for Cairo University students.,, He pointed out that ،،Cairo University is considering the organization of a cultural salon at Grand Celebration Hall to host senior writers and intellectuals with students attending the event.,, He added that ،،Arts competition is organized among Cairo University students with focus on theater, singing and playing instruments, in addition to organizing Olympiad that encompasses all sport teams at Cairo University faculties.,, Elkhosht illustrates the importance of creating suitable circumstances for effective student activities that widens the perception of youth and broadens the participation base among them.,,
Latest News
The President of Cairo University thanks Cambridge for the courage shown in its return to fairer assessment methods, which restored the world's confidence in it.
Cairo University Celebrates Forty Fifth Anniversary of October Victory
Cairo University President Meets Vice-President of Renmin University of China to Discuss Means of Cooperation of Belt and Road Initiative with Ain Shams University President Attending
Open Dialog by Minister of Islamic Endowments and Cairo University President with Students about Deconstructing Extremist Ideologies
Cairo University Organizes International Forum for Cultural Heritage entitled Popular Literature and Interdisciplinary Studies in Participation with Researchers from 9 States
Back