Cairo University President Mohamed Osman Elkhosht receives students of Cairo University chorus team, lead by Maestro Mohamed Tharwat, who scores number two in the collective chorus in the competitions of the eleventh Universities Youth Week at Menoufia University.
Elkhosht congratulates the students for winning the second place in the competitions. He talked with them explaining that Cairo University is keen on discovering artistic talents by launching ،،Arts,, Competition to explore student innovations at the university level. He listened to the needs of Cairo University chorus team for increasing their skills and learning more artistic skills.
Elkhosht said to students that ،،Cairo University is not only a place for study and education, but it is also a place for practicing different activities including sport, artistic and social and cultural activities.,, He pointed out that ،،Cairo University encourages all its students to express their potential energies freely.,,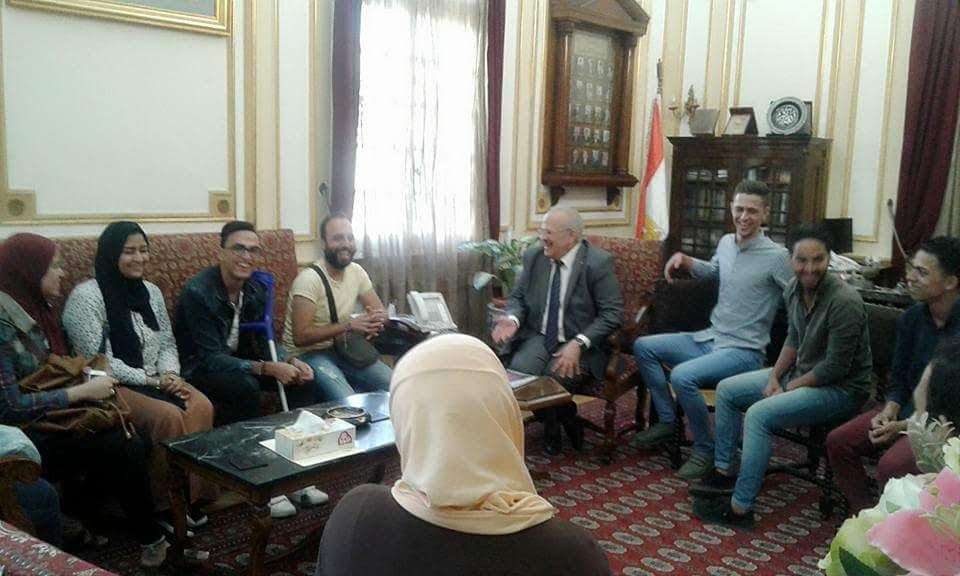 Latest News
The President of Cairo University thanks Cambridge for the courage shown in its return to fairer assessment methods, which restored the world's confidence in it.
Cairo University Celebrates Forty Fifth Anniversary of October Victory
Cairo University President Meets Vice-President of Renmin University of China to Discuss Means of Cooperation of Belt and Road Initiative with Ain Shams University President Attending
Open Dialog by Minister of Islamic Endowments and Cairo University President with Students about Deconstructing Extremist Ideologies
Cairo University Organizes International Forum for Cultural Heritage entitled Popular Literature and Interdisciplinary Studies in Participation with Researchers from 9 States
Back