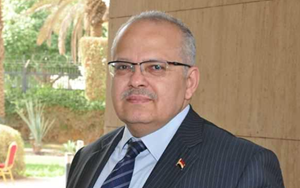 Cairo University President Mohamed Osman Elkhosht gave an interview for Sabah On program broadcasted on On Live Channel this morning. He said ،،The trend of patriarchal state should be terminated.,, He pointed out that ،،Alternative ways for increasing the salaries of academic staff members should be searched for.,, He added that ،،Cairo University works on increasing the university resources by adopting several procedures.,,
Elkhosht referred to the increase of international students numbers in the current academic year to nearly 3000 international students which is a duplicated number in comparison to the previous academic year. He said that ،،This increase leads to increase in Cairo University resources as the financial revenue of their registration in the university represents EGP 325, 000, 000.,,
Latest News
The President of Cairo University thanks Cambridge for the courage shown in its return to fairer assessment methods, which restored the world's confidence in it.
Cairo University Celebrates Forty Fifth Anniversary of October Victory
Cairo University President Meets Vice-President of Renmin University of China to Discuss Means of Cooperation of Belt and Road Initiative with Ain Shams University President Attending
Open Dialog by Minister of Islamic Endowments and Cairo University President with Students about Deconstructing Extremist Ideologies
Cairo University Organizes International Forum for Cultural Heritage entitled Popular Literature and Interdisciplinary Studies in Participation with Researchers from 9 States
Back