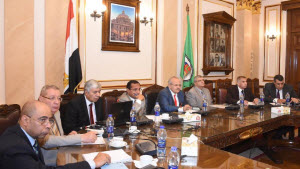 Cairo University President Mohamed Osman Elkhosht enunciates the importance of the role played by Egypt Nano Technology Center – Cairo University (EGNC – CU) which is the first of its type in the Arab region. The center prepares highly qualified human cadres and a generation of researchers specialized in nanotechnology uses and industrial applications.
This is pointed out during the meeting of Cairo University Vice-President for Postgraduate Studies and Research Amr Adly and Cairo University Vice-President for Community Service and Environment Development Saeed Daw with the center professors.
Elkhosht said that ،،The Nanotechnology Center has effective role in conducting applied research projects that serve industry development and production upgrading, in addition to nanotechnology uses in medical and biological applications to benefit society.,, He pointed out that ،،It is important to find new ways for marketing the devices of nanotechnology center to benefit different research bodies in the state vis-à-vis financial revenue for Cairo University to contribute to the development of educational process and scientific research at the university.,, He added that ،،The center owns many devices and developed laboratories used in scientific research including solar cells laboratory that contains the most modern solar cell efficiency measurement devices.,,
Egypt Nano Technology Center - Cairo University is working on benefitting from scientific research and applications for cancer treatment, solar panel cells production, and water filtration. The center contains three laboratories specialized in nanoscience and researchers specialized in physics, chemistry, and biochemistry. The center signed cooperation protocols with National Research Centre and Nile University to conduct joint research projects.
Latest News
The President of Cairo University thanks Cambridge for the courage shown in its return to fairer assessment methods, which restored the world's confidence in it.
Cairo University Celebrates Forty Fifth Anniversary of October Victory
Cairo University President Meets Vice-President of Renmin University of China to Discuss Means of Cooperation of Belt and Road Initiative with Ain Shams University President Attending
Open Dialog by Minister of Islamic Endowments and Cairo University President with Students about Deconstructing Extremist Ideologies
Cairo University Organizes International Forum for Cultural Heritage entitled Popular Literature and Interdisciplinary Studies in Participation with Researchers from 9 States
Back