Cairo University delegation achieves unprecedented results, during its successful visit to China, in supporting educational and research cooperation between Cairo University and Chinese higher education institutions. Cairo University delegation encompasses Cairo University President Mohamed Osman Elkhosht, and Chairwoman of Chinese Department and Manager of Confucius Institute at Cairo University Rehab Mahmoud.
Cairo University President Mohamed Osman Elkhosht said that the visit of Cairo University delegation to China achieves many results most prominent of which are agreeing on increasing scholarships to students and Egyptian professors. They also agreed on increasing many delegate Chinese to Cairo University to benefit from Chinese experiment, widening the working domain of Confucius Institute at Cairo University to include research activities, translation, and teachers training, besides its educational and cultural activity. Elkhosht added that it is agreed with Chinese side on cooperating for Confucius Institute to become an expertise for decision making in economic and political fields. It is expected that cooperation fields are widened and strategic partnership agreements between Egypt and China reach high levels in relations between the two states in light of supporting joint interests between Egypt and China.
The Egyptian delegation from Cairo University succeeds in persuading the Chinese side to open branches affiliated to Confucius Institute to include many governorates. The delegation also suggests new strategies to increase student turnout in Chinese language learning as Egyptian-Chinese relations need many number of specialists in commercial, industrial, and agricultural fields.
Cairo University cooperates with China to establish the largest model Confucius Institute at the Middle East level and open it soon.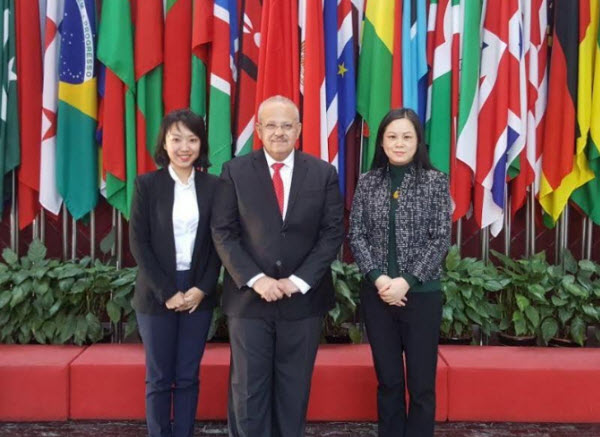 Latest News
The President of Cairo University thanks Cambridge for the courage shown in its return to fairer assessment methods, which restored the world's confidence in it.
Cairo University Celebrates Forty Fifth Anniversary of October Victory
Cairo University President Meets Vice-President of Renmin University of China to Discuss Means of Cooperation of Belt and Road Initiative with Ain Shams University President Attending
Open Dialog by Minister of Islamic Endowments and Cairo University President with Students about Deconstructing Extremist Ideologies
Cairo University Organizes International Forum for Cultural Heritage entitled Popular Literature and Interdisciplinary Studies in Participation with Researchers from 9 States
Back