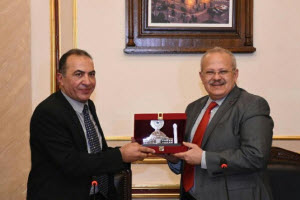 Cairo University organizes a seminar with Journalist Mohamed Elsayed Saleh Editor-in-chief of Al-Masry Al-Youm Newspaper as one of the activities of the cultural salon. The seminar discusses ،،The Legend of the Palace and the Desert,, book at Ahmed Lotfy Elsayed Hall at Cairo University. It is attended by Cairo University President Mohamed Osman Elkhosht, some professors, and students.
Prof. Dr. Mohamed Osman Elkhosht said during the seminar opening: ،،It is to my pleasure that Cairo University continues its cultural salon hosting opinion leaders in Egypt because they are the driving forces behind public opinion by their thought and vision.,,
Cairo University President proceeds: ،،When I knew about The Legend of the Palace and the Desert book, I decided that Cairo University should be the first cultural platform that launches this book.,, He refers to the pragmaticity of Cairo University document for enlightenment as it changes the reality and controls the progress of Cairo University and society.
Elkhosht calls for changing the ways of thinking. He said that ideas are just information, but it is thinking methodology that makes change, therefore, renaissance should begin with changing individual thought.
Journalist Mohamed Elsayed Saleh said about the writing of The Legend of the Palace and the Desert book that many symbols before July 1952 Revolution were defamed. He pointed out that history should be written objectively regardless of politics and rulers. He added that all works that deal with Ahmed Hasanein Pasha are superficial.
Mohamed Elsayed Saleh added that the story of Ahmed Hasanein Pasha started in desert and his discoveries are extremely important and difficult. The man managed in the beginning of the twentieth century to record exploratory history for himself. He also managed to encourage scientific research and scientific exploration. This man succeeded in flying the Egyptian flag in European states. He was the President of Al-Ahly Club. He re-planned the area between Egypt, Libya, and Sudan and the importance of Western borders.
Editor-in-chief of Al-Masry Al-Youm Newspaper illustrated that the book talks about a legend in Egypt. It is Zarzoura Oasis which is lost in Egypt. It has an association that is held every two years in one of European states to discuss searching for the lost oasis. He said: ،،I wish we re-read our history and geography and use the oasis story for tourism and archaeology even if it is a non-existent legend.
Latest News
The President of Cairo University thanks Cambridge for the courage shown in its return to fairer assessment methods, which restored the world's confidence in it.
Cairo University Celebrates Forty Fifth Anniversary of October Victory
Cairo University President Meets Vice-President of Renmin University of China to Discuss Means of Cooperation of Belt and Road Initiative with Ain Shams University President Attending
Open Dialog by Minister of Islamic Endowments and Cairo University President with Students about Deconstructing Extremist Ideologies
Cairo University Organizes International Forum for Cultural Heritage entitled Popular Literature and Interdisciplinary Studies in Participation with Researchers from 9 States
Back