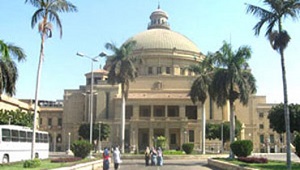 Cairo University President Mohamed Osman Elkhosht issues a decree of forming a committee for the stock-taking of Heritage Library collections, belongings, and all the archaeological and historical collections of university in libraries, museums, and other. The committee is formed under the general supervision of Dr. Zahi Hawass the former Minister of Archaeology and chaired by Professor and Chair of Librarianship Department at Faculty of Arts Cairo University Hisham Mohamed Azmy. The members of the committee are Faculty of Archaeology Dean Heba Kamal Mustafa, Professors of Faculty of Arts; Dr. Mohamed Fathy Abdelhady, Dr. Ossama Elsayed Mahmoud, Dr. Ossama Gamal Elelsh, and Dr. Ensaf Omar, and Professor of Faculty of Law Dr. Mohamed Samy Abdelsadeq.
The decree issued by Cairo University states that the committee shall draw on the expertise of specialists chosen to work in its field. It also states that specialized employees at Cairo University are responsible for the requirements of facilitating the committee work functions. Any person found guilty of hindering the committee work by any means shall be subject to legal accountability.
Latest News
The President of Cairo University thanks Cambridge for the courage shown in its return to fairer assessment methods, which restored the world's confidence in it.
Cairo University Celebrates Forty Fifth Anniversary of October Victory
Cairo University President Meets Vice-President of Renmin University of China to Discuss Means of Cooperation of Belt and Road Initiative with Ain Shams University President Attending
Open Dialog by Minister of Islamic Endowments and Cairo University President with Students about Deconstructing Extremist Ideologies
Cairo University Organizes International Forum for Cultural Heritage entitled Popular Literature and Interdisciplinary Studies in Participation with Researchers from 9 States
Back