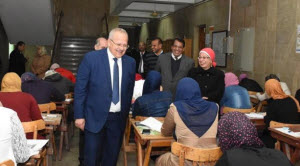 Cairo University President states that most of first term exam results at Cairo University faculties will be announced during mid-year vacation. All faculties will finish results announcement by the end of February at maximum. First term exams were finished on January 18, 2018. Exams were performed in quietness and no hindrances or problems were monitored regarding them.
Cairo University President added that the total cheating cases were 238 at faculty exams according to exam progress report until January 18, 2018. This number is lesser than the previous year. Cheating cases are 84 at Faculty of Law, 62 at Faculty of Arts, 18 at Faculty of Dar El-Ulum, 12 at Faculty of Engineering, 12 at Faculty of Commerce, 11 at Faculty of Agriculture, 7 at Faculty of Mass Communication, and 7 at Faculty of Specific Education. Cheating cases are 7 at Faculty of Science, 5 at Faculty of Early Childhood, 4 at Faculty of Physical Therapy, 3 at Faculty of Economics, 3 at Faculty of Archaeology, 2 at Faculty of Computers and Information, and one case at Faculty of Pharmacy.
Elkhosht pointed out that decreasing numbers of cheating is due to applying the exam paper specifications and Bubble Sheet exam system with nearly 60% which is a great success. He added that applying problem-solving question with nearly 5% of second term exams is aimed at building ideological and mental student abilities to make decisions.
Latest News
The President of Cairo University thanks Cambridge for the courage shown in its return to fairer assessment methods, which restored the world's confidence in it.
Cairo University Celebrates Forty Fifth Anniversary of October Victory
Cairo University President Meets Vice-President of Renmin University of China to Discuss Means of Cooperation of Belt and Road Initiative with Ain Shams University President Attending
Open Dialog by Minister of Islamic Endowments and Cairo University President with Students about Deconstructing Extremist Ideologies
Cairo University Organizes International Forum for Cultural Heritage entitled Popular Literature and Interdisciplinary Studies in Participation with Researchers from 9 States
Back