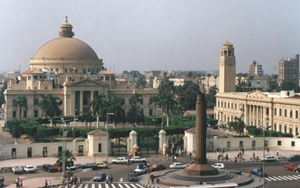 Cairo University Faculty of Medicine, Psychiatry Department, holds the eleventh international conference entitled ،Modern Psychiatry between what is Personal or Systematic, at Developed Education Building at Kasr Ainy Faculty of Medicine from 21-22 February, at 9:30 a.m. The conference is sponsored by Cairo University President Mohamed Osman Elkhosht and Faculty of Medicine Dean Fathy Khodeir.
The conference is attended by the Manager of Armed Forces Faculty of Medicine, chairs of psychiatry departments at different faculties of medicine, Military Medical Academy, and some foreign experts.
Faculty of Medicine organizes a seminar on the role of modern technology in elderly medicine and some workshops regarding different fields of child, adolescent, and drug addiction psychiatry.
Latest News
The President of Cairo University thanks Cambridge for the courage shown in its return to fairer assessment methods, which restored the world's confidence in it.
Cairo University Celebrates Forty Fifth Anniversary of October Victory
Cairo University President Meets Vice-President of Renmin University of China to Discuss Means of Cooperation of Belt and Road Initiative with Ain Shams University President Attending
Open Dialog by Minister of Islamic Endowments and Cairo University President with Students about Deconstructing Extremist Ideologies
Cairo University Organizes International Forum for Cultural Heritage entitled Popular Literature and Interdisciplinary Studies in Participation with Researchers from 9 States
Back