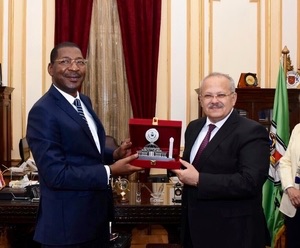 Cairo University President Mohamed Othman Elkhosht meets the President of Burkina Faso National Assembly Alassane Balla Sakandé and his accompanying delegation on May 13, 2018, at office. The meeting discusses cooperation in fields of providing scholarships for Burkina Faso students and exchange of professors and students with Burkina Faso universities.
Elkhosht said during the meeting that ،،Warm relations link between Egypt and Burkina Faso and we know this from football sport. Sport is a communication medium between peoples and civilizations because it has a cultural role.,, He added ،،Cairo University is ready to present all forms of scientific, educational, and research cooperation with Burkina Faso.,, He said ،،Cairo University encompasses 21 faculties, 5 institutes, and 167 research centers that can serve in fields of agriculture, industry, and comprehensive development, as well as possessing educational experiences at high level to be exchanged with Burkina Faso.,,
Latest News
The President of Cairo University thanks Cambridge for the courage shown in its return to fairer assessment methods, which restored the world's confidence in it.
Cairo University Celebrates Forty Fifth Anniversary of October Victory
Cairo University President Meets Vice-President of Renmin University of China to Discuss Means of Cooperation of Belt and Road Initiative with Ain Shams University President Attending
Open Dialog by Minister of Islamic Endowments and Cairo University President with Students about Deconstructing Extremist Ideologies
Cairo University Organizes International Forum for Cultural Heritage entitled Popular Literature and Interdisciplinary Studies in Participation with Researchers from 9 States
Back