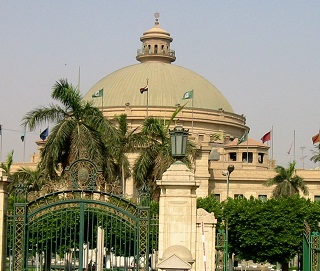 Sponsored by Dr.\ Hossam Kamel, President of Cairo University, Faculty of Computers and Information, Cairo University, organizes the annual Graduation Day Ceremony. The activities of the ceremony will be held at 5:00 p.m., Tuesday, April 30, 2013, at Grand Hall, Cairo University. Graduates of class 2012, including the different departments of class 2012, the thirteenth graduated class since the faculty was established.
This has been declared by Dr.\ Reem Bahgat, Dean of Faculty of Computers and Information, Cairo University, pointing out that graduation certificates, faculty awards, and departments' awards will be distributed among the graduates and alumni of class 2012. Alumni of diplomas in different disciplines, and M.Sc. and PhD. holders of the academic year 2012 will also be honored.Dr.\ Fatma Emara, Faculty Vice Dean for Community Service and Environment Development, has mentioned that the faculty's ceremony will witness honoring Dr.\ Ali El-Bastawissy, Professor of Information Technology at the Faculty, and Head of Technology Support Center at the University, as well as Dr.\ Hisham El-Mahdy, who won the epithet of the best professor of Information Technology in Africa.

The activities of Faculty of Computers and Information's graduation ceremony will also witness representatives of Ministry of Communication and Information Technology as well as corporations of information technology.
Latest News
The President of Cairo University thanks Cambridge for the courage shown in its return to fairer assessment methods, which restored the world's confidence in it.
Cairo University Celebrates Forty Fifth Anniversary of October Victory
Cairo University President Meets Vice-President of Renmin University of China to Discuss Means of Cooperation of Belt and Road Initiative with Ain Shams University President Attending
Open Dialog by Minister of Islamic Endowments and Cairo University President with Students about Deconstructing Extremist Ideologies
Cairo University Organizes International Forum for Cultural Heritage entitled Popular Literature and Interdisciplinary Studies in Participation with Researchers from 9 States
Back