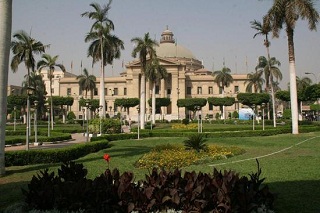 Headed by Dr.\ Gaber Nassar, President of Cairo University, Cairo University's Council reviewed, in its meeting on March 31, 2014, the course of the educational process in the university's faculties during the second term. Faculties Deans have confirmed that the educational process witnesses regularity and calmness in general. This has not been affected by the events made by some students.
The university's council has been informed about the results of the Supreme Council of Universities' last meeting, which has been attended by the Prime Minister and the two Ministers of Interior and Finance, concerning the educational process foremost of which boosting peaceful freedom of expression and facing any deviation from peaceful framework through coordination between the university and Ministry of Interior according to the signed protocol between Ministry of Higher Education and Ministry of Interior, existence of police in the nearest position to the university for fast interference depending on the demand of Cairo university's president in case of riots, investigating the involved students, and expelling them according to amendments of organizing universities law.
Latest News
The President of Cairo University thanks Cambridge for the courage shown in its return to fairer assessment methods, which restored the world's confidence in it.
Cairo University Celebrates Forty Fifth Anniversary of October Victory
Cairo University President Meets Vice-President of Renmin University of China to Discuss Means of Cooperation of Belt and Road Initiative with Ain Shams University President Attending
Open Dialog by Minister of Islamic Endowments and Cairo University President with Students about Deconstructing Extremist Ideologies
Cairo University Organizes International Forum for Cultural Heritage entitled Popular Literature and Interdisciplinary Studies in Participation with Researchers from 9 States
Back