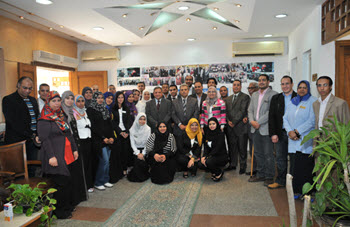 Dr.\ Gaber Nassar, President of Cairo University, has visited Center for Foreign Languages and Professional Translation, Cairo University. He has made a tour inspecting education and training halls and the center's laboratories, and then he met the learners. During his visits to the center, Nassar held a long meeting with programs' coordinators and the center's employees. The meeting has been attended by Gamal Abdul-Nasser, Vice President of Cairo University for Community Service and Environment Development, and Dr.\ Amany Badawy, Manager of the Center. The meeting discussed the aims that Cairo University seeks in its plan to develop the performance of the center and the units of the university.
This aims at developing the roles of the center and the university's units in research fields, community service, learning and training directed to society organizations, associations and individuals. Besides, this boosts the chances of integration and cooperation with society to get benefit from the efforts of research, learning and training university centers. Besides, the necessity of adhering to quality criteria in what university centers and units present of scientific research, education and training.
Latest News
The President of Cairo University thanks Cambridge for the courage shown in its return to fairer assessment methods, which restored the world's confidence in it.
Cairo University Celebrates Forty Fifth Anniversary of October Victory
Cairo University President Meets Vice-President of Renmin University of China to Discuss Means of Cooperation of Belt and Road Initiative with Ain Shams University President Attending
Open Dialog by Minister of Islamic Endowments and Cairo University President with Students about Deconstructing Extremist Ideologies
Cairo University Organizes International Forum for Cultural Heritage entitled Popular Literature and Interdisciplinary Studies in Participation with Researchers from 9 States
Back