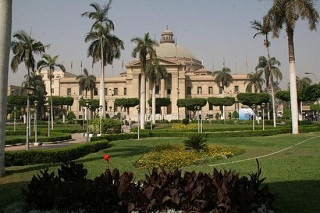 Dr.\ Gaber Nassar, President of Cairo University, confirmed that the university's administration is keen on enhancing the conditions of university hostels, concerning elements of stay and subsistence of students which includes cleaning of facilities of university hostels, food halls, kitchens equipment, students health care in spite of the high cost of stay and subsistence at university hostels of which students only pay about 10 % of its actual value.
This has happened during a sudden visit made by Nassar to the university hostel of Beau Lac Du Caire on Sunday, May 4, accompanied by Dr.\ Ezz-ul-Deen Abu-Steit, Vice President of Cairo University for Education and Students Affairs. Nassar inspected the hostel's buildings, food halls and the kitchen in the presence of the hostel's manager and the supervisors. Nassar has eaten a lunch with students at the restaurant of the hostel. He has listened to the complaints of the students concerning the absence of sufficient cleaning services at the hostel, the absence of ambulance inside the hostel, and the frequency of electricity and water cut off.
Latest News
The President of Cairo University thanks Cambridge for the courage shown in its return to fairer assessment methods, which restored the world's confidence in it.
Cairo University Celebrates Forty Fifth Anniversary of October Victory
Cairo University President Meets Vice-President of Renmin University of China to Discuss Means of Cooperation of Belt and Road Initiative with Ain Shams University President Attending
Open Dialog by Minister of Islamic Endowments and Cairo University President with Students about Deconstructing Extremist Ideologies
Cairo University Organizes International Forum for Cultural Heritage entitled Popular Literature and Interdisciplinary Studies in Participation with Researchers from 9 States
Back