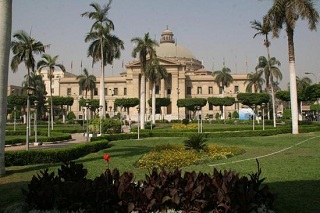 Sponsored by Dr.\ Gaber Nassar, President of Cairo University, and supervised by Dr.\ Gamal Abdul-Nasser, Vice President of Cairo University for Community Service and Environment Development Affairs, Cairo University organizes an exhibition for student clothes in cooperation with the Egyptian Association for Citizenship on November 4, 2014, at 10 a.m., at Exams Hall, Cairo University.
This exhibition is included in the framework of the cultural and artistic season for Cairo University, as this exhibition is held annually for serving students to get clothes for all students with affordable prices.
Latest News
The President of Cairo University thanks Cambridge for the courage shown in its return to fairer assessment methods, which restored the world's confidence in it.
Cairo University Celebrates Forty Fifth Anniversary of October Victory
Cairo University President Meets Vice-President of Renmin University of China to Discuss Means of Cooperation of Belt and Road Initiative with Ain Shams University President Attending
Open Dialog by Minister of Islamic Endowments and Cairo University President with Students about Deconstructing Extremist Ideologies
Cairo University Organizes International Forum for Cultural Heritage entitled Popular Literature and Interdisciplinary Studies in Participation with Researchers from 9 States
Back