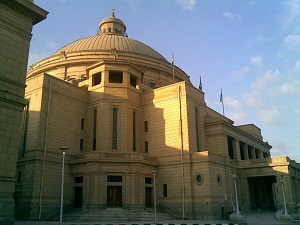 Faculty of Oral and Dental Medicine, Cairo University, has celebrated graduating class no. 85 which is considered the first class graduated after the faculty got quality accreditation.
The celebration is sponsored by Dr.\ Gaber Nassar, President of Cairo University, and Dr.\ Amr Abul-Ezz, Faculty Dean. It has been attended by Dr.\ Adel Adawy, Minister of Health, Vice Deans of the faculty, Dr.\ Hisham Katamesh, Ex-Dean of the Faculty, as well as the students and their parents.
In a speech delivered at the celebration, Minister of Health has said that to make a value for a nation, we should put two main things into our consideration; measuring education level, and measuring health services level. Therefore, fresh graduates of youth dentists should return the favor to their homeland. Egypt needs much of their efforts, and we should take into our accounts that human health starts from mouth, and that Ministry of Health is working hard to fight infection, especially Viral Hepatitis infection.
In a speech he delivered at the celebration, Nassar said the university is based on three pillars, namely; professor – employee – student. He has also said that Cairo University writes a new line in its success and loyalty to our Homeland with each new graduated class. Cairo University is not a normal university; it is rather a unique university with its specificities. The university keeps its existence in international rankings despite all vicious trials which seeks undermining the university.
Dr.\ Abul-Ezz has asked students to return the favor to their Homeland, and be helpful for every individual in the society taking into their accounts professional ethics.
By the end of the celebration, Nassar has honored Dr.\ Katamesh. Faculty Ex-Dean, Dr.\ Hussein Khairy, Dean of Faculty of Medicine, Cairo University, as well as some faculty professors and the graduates.
Latest News
The President of Cairo University thanks Cambridge for the courage shown in its return to fairer assessment methods, which restored the world's confidence in it.
Cairo University Celebrates Forty Fifth Anniversary of October Victory
Cairo University President Meets Vice-President of Renmin University of China to Discuss Means of Cooperation of Belt and Road Initiative with Ain Shams University President Attending
Open Dialog by Minister of Islamic Endowments and Cairo University President with Students about Deconstructing Extremist Ideologies
Cairo University Organizes International Forum for Cultural Heritage entitled Popular Literature and Interdisciplinary Studies in Participation with Researchers from 9 States
Back