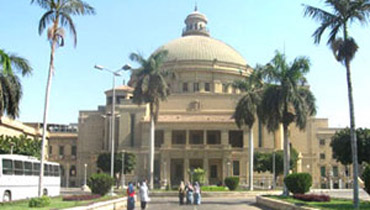 Aspects of cooperation between Cairo University and Syndicate of Journalists have been discussed by Professor Gaber Nassar, President of Cairo University, during a meeting at his office with Diaa Rashwan, Chief of Journalists Syndicate, Alaa Thabet, Deputy of Journalists Syndicate, and Editor in Chief of Al-Ahram Newspaper.
The meeting was regarding training the new editors before enrolling them in Journalists Syndicate as articled clerks according to the memorandum of understanding and the cooperation protocol expected to be signed between the university and the syndicate during the first week of December 2014 in journalists training fields. The memorandum and the protocol aim at training 1200 journalists annually at Faculty and Leadership Development Center, Cairo University. Nassar has welcomed the Partnership Agreement with the Journalists Syndicate, and confirmed that the university will offer all necessary facilities for the sake of the success of this partnership, as well as providing high level training requirements.
Latest News
The President of Cairo University thanks Cambridge for the courage shown in its return to fairer assessment methods, which restored the world's confidence in it.
Cairo University Celebrates Forty Fifth Anniversary of October Victory
Cairo University President Meets Vice-President of Renmin University of China to Discuss Means of Cooperation of Belt and Road Initiative with Ain Shams University President Attending
Open Dialog by Minister of Islamic Endowments and Cairo University President with Students about Deconstructing Extremist Ideologies
Cairo University Organizes International Forum for Cultural Heritage entitled Popular Literature and Interdisciplinary Studies in Participation with Researchers from 9 States
Back