His Highness Shaikh Mohammed bin Rashid Al Maktoum, Vice-President and Prime Minister of the UAE and Ruler of Dubai, on Wednesday launched Mohammed bin Rashid Arabic Language Award.



The award aims to encourage exceptional contributions in serving the Arabic language and honouring its patrons besides highlighting successful and outstanding experiences in disseminating and educating the Arabic language.



Speaking on the occasion, Shaikh Mohammed said: "The language of the Holy Quran is protected by Allah, and our goal behind launching this award is to serve it and contribute to its dissemination."



He added: "To contribute to the preservation of the Arabic language through honouring its pioneers and distinguished persons consolidates our identity and preserves our heritage, our thinking and our culture, and is protection for our new generations from losing the most important cultural, educational and linguistic tool we possess."

The award includes five branches, whereby outstanding initiatives will be honoured along with the exceptional contributions to support the Arabic language in the areas of education, media, Arabisation, technology, preservation and dissemination of the Arab linguistic heritage.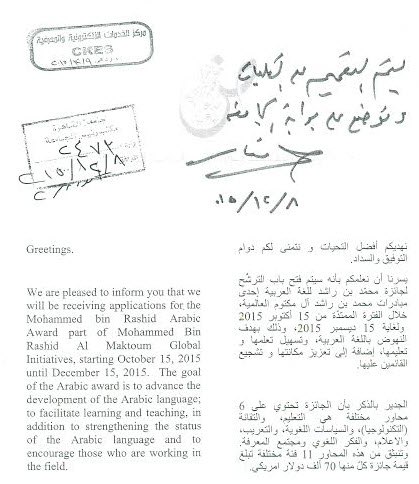 Latest Research Project
Back