Cairo University
In Photos: Prof. Dr.\ Gaber Nassar Joins Cairo University Students in Beautifying the Yard of University Campus
Date :2015-04-26 23:19:59
On Sunday morning, April 26, 2015, Cairo University students have organized an activity of general service of beautifying Cairo University campus where Prof. Dr.\ Gaber Nassar, President of Cairo University, has joined students in painting the pavements of Cairo University campus and some of its walls, as well as painting road signs inside the yard of university campus.
Prof. Dr.\ Ezz-ul-Din Abu-Steit, Vice President of Cairo University for Education and Students Affairs, Prof. Dr.\ Gamal Abdul-Nasser, Vice President of Cairo University for Community Service and Environment Development Affairs, and some faculties' deans, staff members and employees of university have participated in the activity held under the slogan "Our University Is Clean".
Nassar has talked to students confirming the importance of their role in general service. He has also called upon the importance of activating contact between students and university administration in all the educational and social students concerns.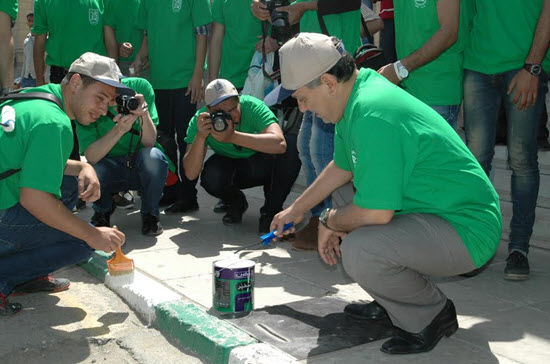 ---