Cairo University
Cairo University Distributes Certificates among Journalists after Passing Training Courses
Date :2015-02-28 23:25:51
Cairo University has organized a ceremony at Conference Hall, Cairo University Hostel, for the certification of two classes of trainees of Faculty and Leadership Development Center (FLDC) – Cairo University after passing the training courses that qualifies journalists to be enrolled in the Journalists Syndicate. The course is included in the cooperation protocol signed between the university and the syndicate for training new editors before enrolling them in Journalists Syndicate as articled clerks. The ceremony was attended by Prof. Dr.\ Gaber Nassar, President of Cairo University, and Dr.\ Amr Mustafa, The Director of Faculty and Leadership Development Center – Cairo University which hosts the training courses, and Dr.\ Adel Abdul-Ghaffar, The Speaker of Cairo University, and a group of media professionals.





The certificates of passing the training courses have been distributed among about 160 journalists in the first and second classes. Nassar has said in a speech, he delivered during the ceremony, that the training courses helps in increasing new information and knowledge of youth journalists as the cognitive composition of the human mind comes through training and learning. Journalism is not a job in the traditional sense, as it is a career that represents a production of an intellectual mental work, and this is the specialty about it. Journalism is a tool and a medium of knowledge and information transfer. It is related to one of the most important freedoms which the science of law considers one of the essential freedoms since it sticks to the rights of learning, education, freedom of belief and creativity. All of these rights have become associated with the freedom of journalism.





Cairo University President has declared that the university council has approved the donation of professional diplomas from Faculty and Leadership Development Center (FLDC) – Cairo University. He pointed out that developed countries started with the professional training without being interested in certificates. He illustrated that Faculty and Leadership Development Center is internationally certified and has a reputation and presence in the Middle East.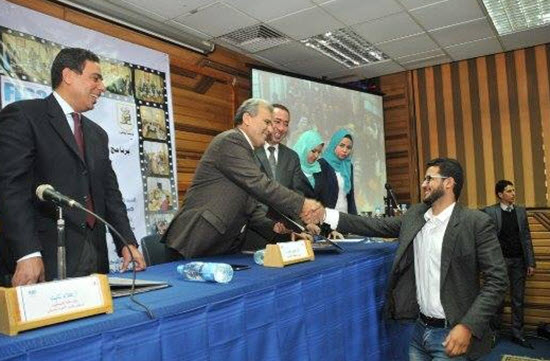 ---